Inspired by another blogger (that I can't seem to find right now), we're going to begin sharing a monthly A-list. Basically, it's a list of our favorite movies, books, and finds. Nothing sappy, encouraging, or motivational, just a simple list of some of our favorites. Short, sweet, and to the point!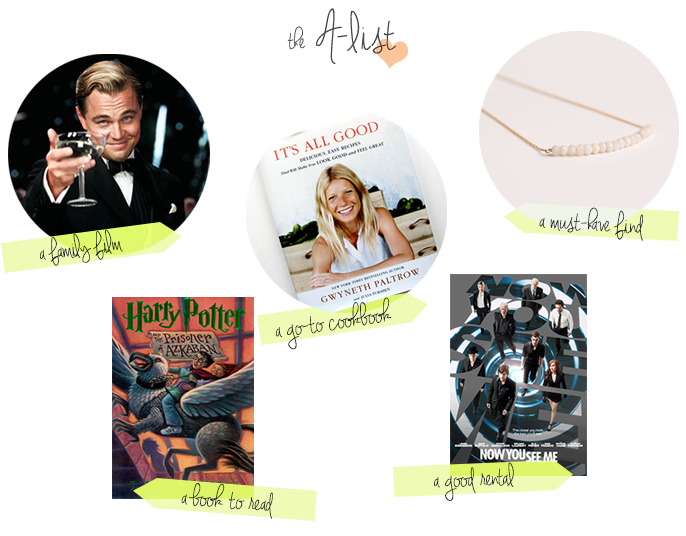 a family film // a book to read // a go-to cookbook // a good rental // a must-have find
Beginning with the stud pictured above, I highly recommend The Great Gatsby to all bookworms – specifically those that love the classic tale by F. Scott Fitzgerald. The upbeat soundtrack, high energy scenes, flashy costumes, and Leonardo DiCaprio's suave good looks had me glued to the screen. (The movie is rated PG-13 for some violent images, sexual content, smoking, partying, and brief language.) Probably not a family film, unless your family consists of you, your spouse, and/or teenagers, but it's definitely a good one!
Next on the list, a book to read. We're both currently reading the Harry Potter series, although we're a little late for the bandwagon. A fantasy novel series about a young wizard's adventures may sound childish, but I must confess I'm hooked. Both of our parents prohibited us from reading the series years ago, and although I agree that it isn't necessarily appropriate for all ages, I believe it's a great series for a fun read. Today, I am in book 3 and Justin is reading book 5. But, I'm hoping that by the time you all are reading this, I'll have finished this one.
For my birthday, Justin surprised me with It's All Good by Gwyneth Paltrow. Since then, it's become a go-to cookbook in our kitchen. It's filled with healthy snacks, breakfast, lunch, dinner, and dessert options. Plus, it's full of colorful photography to inspire a lovely presentation (another favorite knack of mine).
Now You See Me is on our good rental list, not because we've seen it, but because it's one we'd both like to watch. Any reviews or raves?
Last but not least on our A-list, this beautiful necklace by Emma Jane Designs on Etsy. A friend and talented jewelry designer, Emma creates timeless pieces that are simply perfect for everyday wear or a night out on the town. Recently she added several new pieces, one of which is the necklace you see above, and I couldn't resist the purchase. It's a must-have piece in my book and I can't wait to layer it with my monogram necklace!
What's on your A-list this month?

facebook // twitter // instagram // pinterest // bloglovin'