After a short and sweet hiatus, White Oak Pastures didn't disappoint us with Box 11. With a variety of greens, peppers, herbs, and the added bonus, fruit! – we're happy campers! I honestly didn't imagine I'd miss this delivery as much as I did.
Now I'm eager to get back in the kitchen.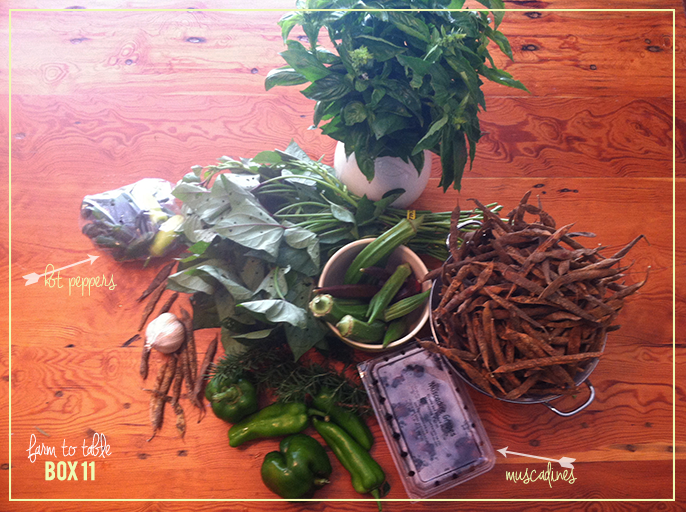 So what came in box 11?
Sweet Potato Greens | Sweet Potato Greens are a common nutritious addition to meals around the world and especially in Africa. Right now, I'm not sure how I'll be using these. But, I may try them in our smoothies tomorrow morning!
Muscadines or Scuppernongs | Fresh from Koinonia Farm, North America's native grape is one of our favorite signs of fall approaching. Our box came with muscadines!
Garlic
Okra or Malabar Spinach or Sungold Cherry Tomatoes | We got okra!
Basil 
Tomatoes or Eggplant or Dried Beans | Jacobs Cattle beans, to be exact. I'm not too thrilled about shelling, but they'll sure taste delicious once I do!
Peppers | Jupiter and Orion Bell peppers, plus Cowhorn and Carmens.
Mixed Hot Peppers
Rosemary | I think I'm going to dry mine.
If you are interested in finding and joining a CSA in your area, use LocalHarvest.org! And if you have any questions, please leave comments below and I'll be happy to answer them – if I can.
Click here to see our previous boxes.
Several of you mentioned that you couldn't find a CSA in your area, my only suggestion is seeking out a local farmer's market. It isn't as convenient as a CSA delivery, but you'll still have the delicious organic vegetables (+ fruits) and still be supporting the local farmers. You may have more of a selection and variety each week too!
On the menu this week,
a veggie pizza
jalapeno popper dip – for the Falcons game on Sunday!
grilled okra
homemade pesto
and muscadine grapes for snacking.
—
Aside from eating healthier, Justin and I have been hitting the gym about two nights a week. Plus, he's playing football on the church league team and I (may have mentioned before) have joined a Zumba class. Two nights a week, I get my groove on with several friends. And it's kicking my bum! I'm so, so sore after last nights class.
What're you doing to live healthy?

facebook // twitter // instagram // pinterest // bloglovin'