This past Friday was the first Friday in September, if you hadn't noticed. Just a hop, skip, and jump away from here in Thomasville, Georgia, the city celebrated with an art show, live music, and boutiques, restaurants, and shops staying open a bit later. They do similar things for each first Friday and it's been something I've wanted to attend for quite some time. Unfortunately, it hasn't been in the cards for us until this past weekend.
Around lunch I realized it was the first Friday of the month, so I eagerly text Justin and several other friends to invite them to join! About 6ish, we were Thomasville bound – in the back of a topless Jeep. Yowzer, my hair was lookin' rough when we arrived!
Our view on the drive,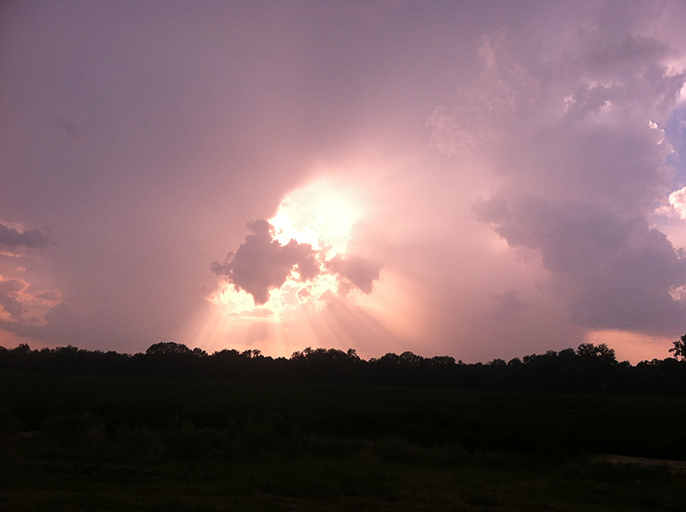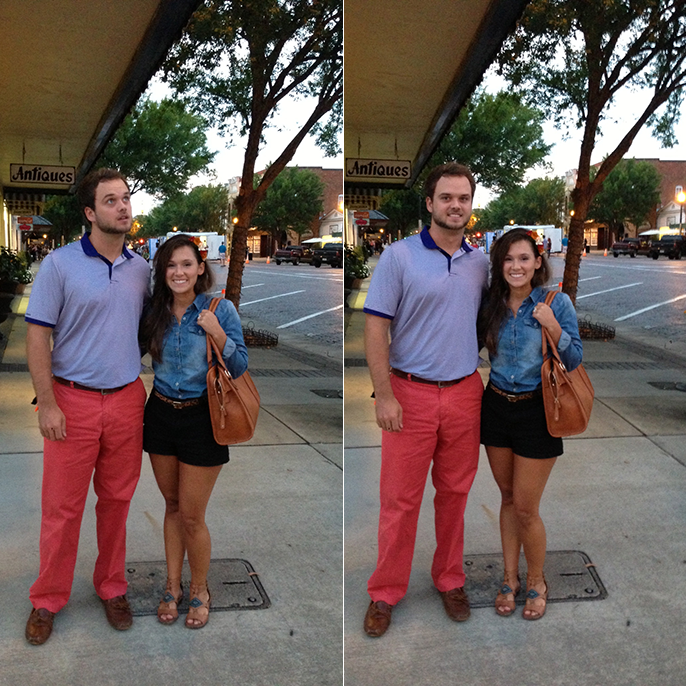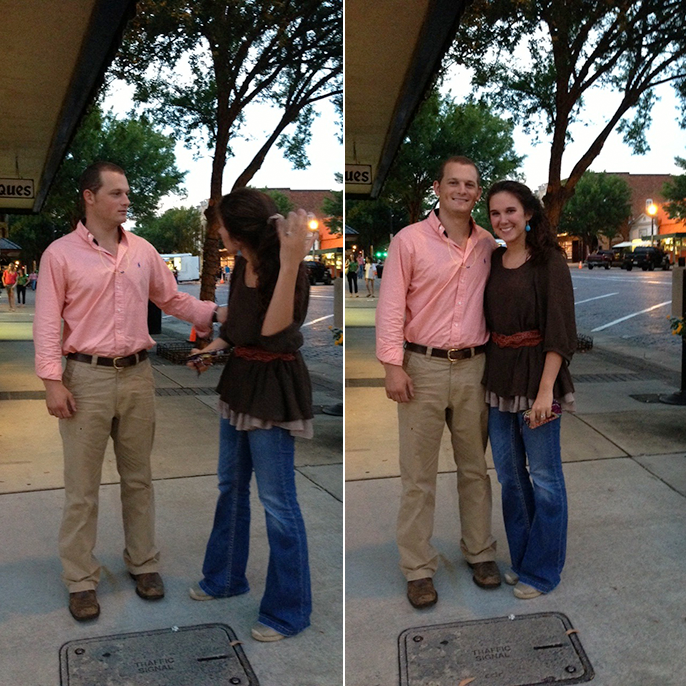 Obviously the guys refuse to take our first-take photos seriously. It's a given that we will take multiple photos, just to get one decent picture!
Once we got there, we realized that most of the shops and boutiques closed around 8 PM. So we rushed into a few of them before they shutdown for the evening. As many of you know, I'm easily impressed with handmade and local creations – so I was in heaven when I discovered the shop, Firefly. Below are a few of the unique finds I discovered,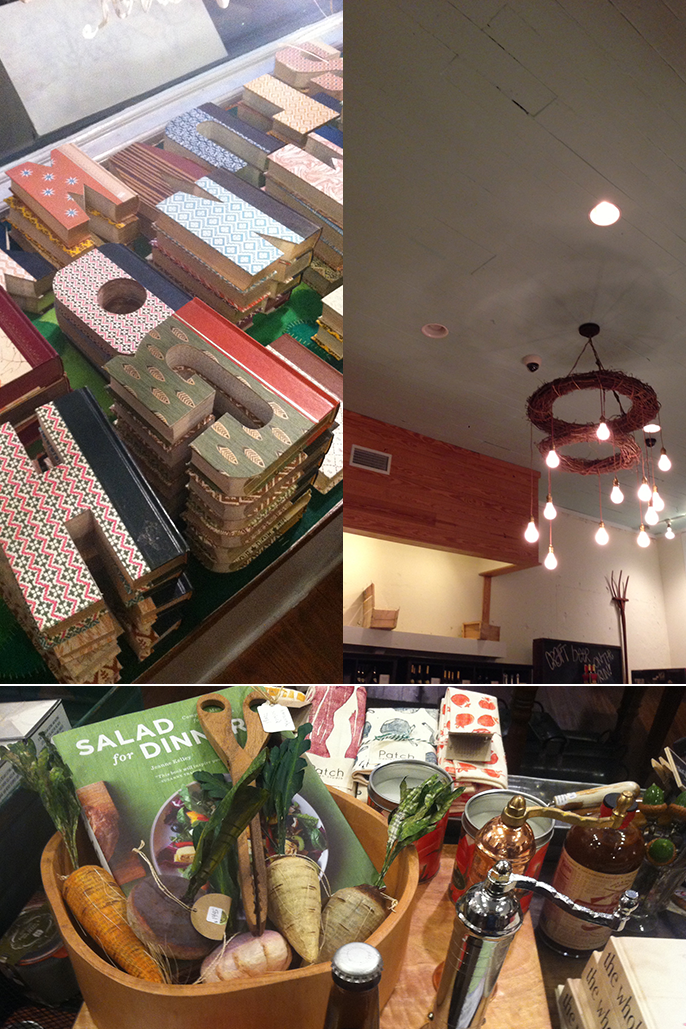 Pictured below are the dainty earrings I found, fell for, and purchased! Honestly, I would've bought it all if only I had that kind of cash flow. Everything was just darling.
(Top & Shorts: Blush Albany, Belt: Target, Headband: Felt Flower Shop on Etsy.)
Afterwards, we stopped by Sweet Grass Dairy for dinner – and I couldn't resist a glass of real (from France!) champagne. I'd be lying if I said it was everything I'd expected, but it was good – just a bit dry.
We decided to order a meat and cheese tray, so we could sample their specialty cheeses. It was so, so good. We'll definitely be back for more!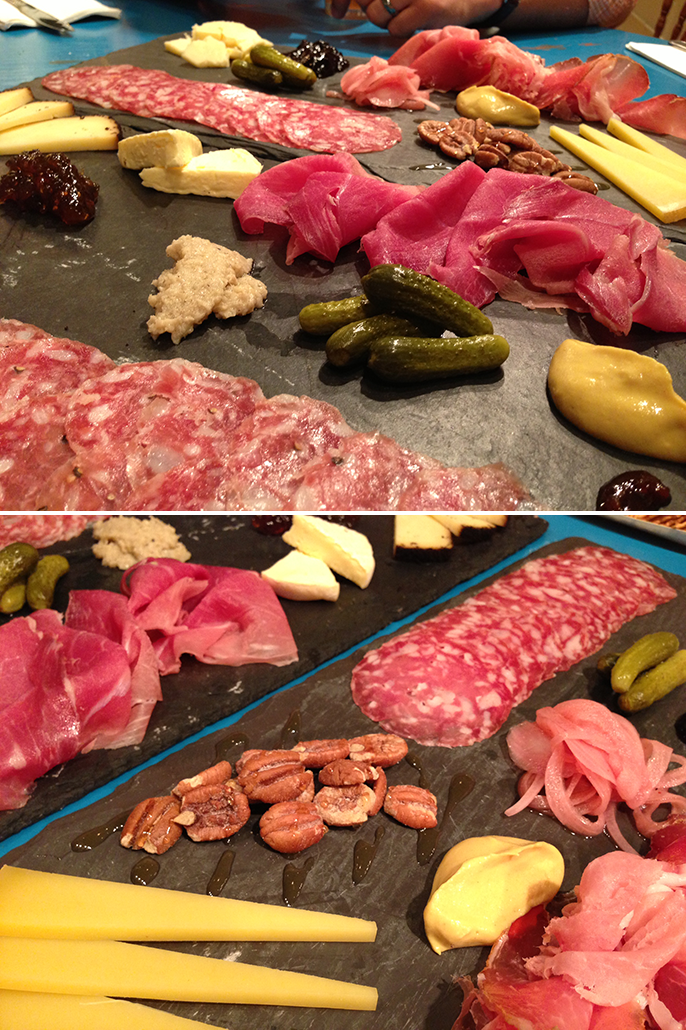 While strolling through downtown, we happened upon these oddly silver ladies. As it turns out, there was an art show/silent auction going on where you could place a bid for art pieces by leaving your bid on? these ladies. (You can't see it, but there is an envelop on that ladies forearm.) It was strange and Teal found it scary, but we couldn't leave without a picture…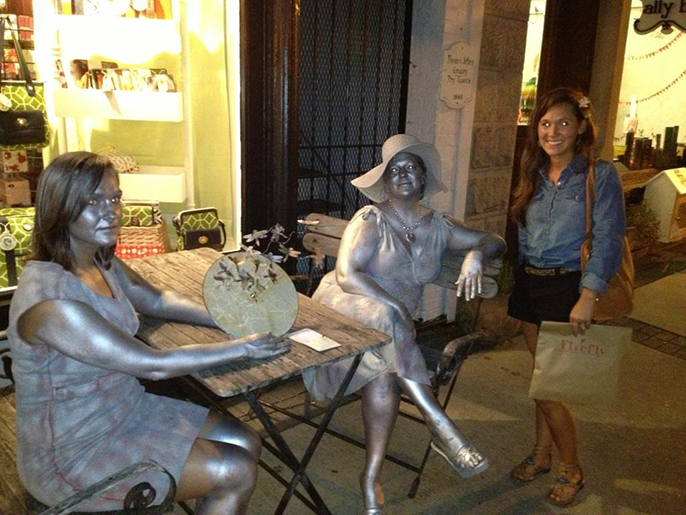 On our way back to the car (and because we weren't ready for our night to end), we stopped by Grassroots Coffee shop for a drink. If you know Teal, she's basically addicted to coffee!
On multiple occasions, Teal reminded us of how awesome our date was going and it was just that – awesome! It was nice to get away, but not too far away. You could call it a staycation!  It was a fun night out and a great double date. We're all excited for the next First Friday and can't wait to go back.
How was your weekend? Did you discover any new, hot and happening spots?

facebook // twitter // instagram // pinterest // bloglovin'