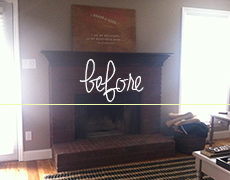 On Wednesday I shared my Labor Day weekend project with you all, our white-washed fireplace and painted mantel. Several of you requested a tutorial, which I teased you with earlier this week but just couldn't get all of the before, during, and after pictures together to share any sooner. But here you go, just as I promised.
Before, the fireplace and mantel stood out like a sore thumb or a pimple on the tip of my nose! From the moment I saw the house, I hated the look of the fireplace. Don't get me wrong, I was excited to have a fireplace and mantel. It was actually a small dream come true to have a place to hang our stockings! But there was just something about the dark, red brick that screamed "ew!" to me. It made the entire room seem dark. To pinterest I went in search of tutorials on painting brick. What I discovered, is that I really love the look of white-washed brick. I also discovered that in some cases, red brick turns pink. What? Apparently so. In turn, I became pretty leery and hesitant to paint our brick.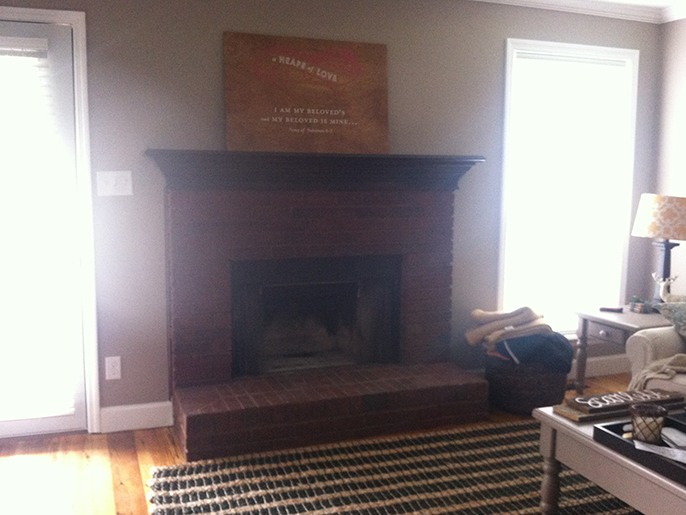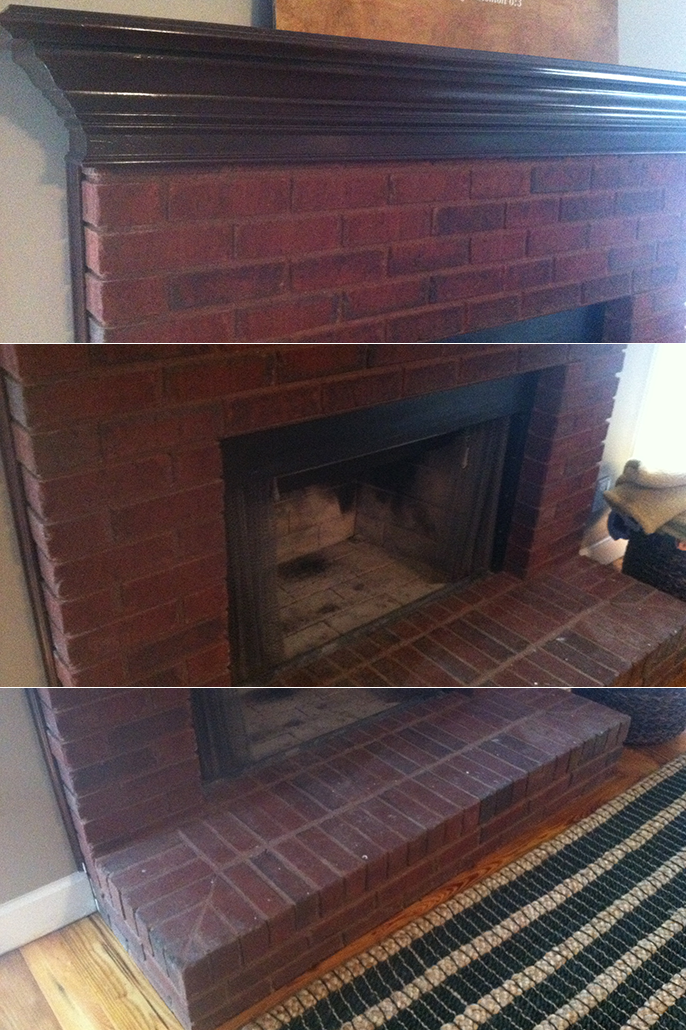 Despite the horror stories, I kept "researching" by reading other tutorials and finally found this DIY that sounded easy enough. Actually, it was such a convincing post, I began the project immediately. That's right, 0 hesitation and I didn't even let Justin in on my little project before I got started. He actually got a text about halfway through the first coat that said, "Don't freak out whenever you get home. I promise it'll look good when it's complete!"

paint, water-based (I used leftover paint we'd bought for the baseboards)
water
container (I used an old cup)
paint brush
The concoction calls for 1/2 paint, 1/2 water – that's all! You mix the two together and get to work. It's fairly simple. Just be sure to have a rag handy, because the mixture is watery, it splatters easily.
I was careful near the walls and meticulous on the grout lines. At first, it's going to look as if you are painting the brick solid white. But after you've given it a few minutes, you'll notice that the brick is very absorbent and most of the color has dissolved. After one layer of 1/2 and 1/2, our brick looked unfinished. So I tried again.
Still… it was becoming a purplish/grey color. So another coat of 1/2 and 1/2, it still looked too purple for my liking. (That's 3 coats and counting!)
Instead of diving straight into the 4th coat of white-wash, Justin suggested me going ahead and painting the mantel. Our thoughts were basically that the dark mantel may be bringing out the dark colors of the brick. So I took a break from the white-washing and painted the mantel white.
…the brick was still purplish/grey. I mixed up another batch of 1/2 and 1/2, then began the 4th and last coat of white-wash.
Here is the step-by-step look from beginning to end,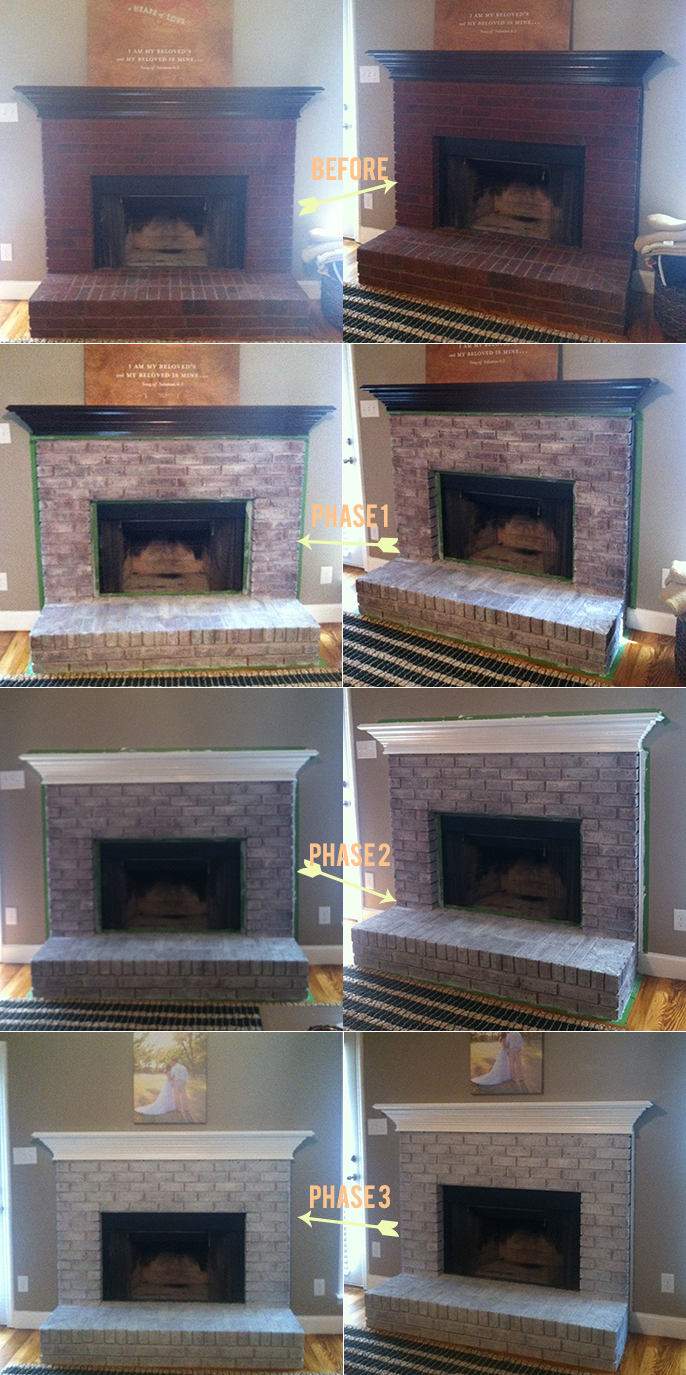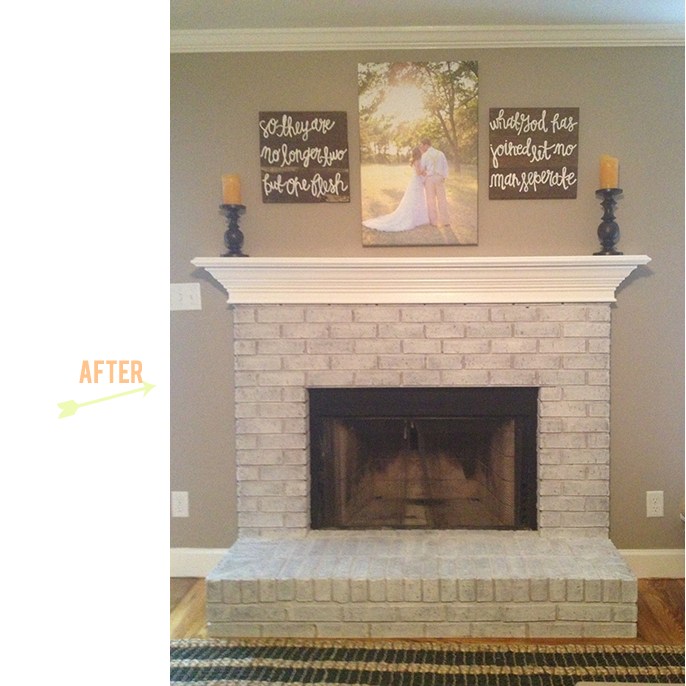 Even though 4 coats may seem like a ton, I actually didn't make a dent in the paint can!  And you may be asking yourself why not just paint the brick white to begin with – seeing as you used so much paint anyway, but to achieve the white-wash look, it's necessary to dilute the paint. Otherwise, you'll end up with a fully painted brick fireplace – similar to this one here or this one, or maybe this one. (Not that that would be a bad thing! Because all of those are awesome. Just not the look I wanted today.)
For us and our dark, red brick, it took 4 coats to get the look I wanted. For John and Sherry (at Young House Love), it took only 2 coats to hide their orangey-brown brick. The results will vary based on the type, color, and absorbency of the brick.
So what do you think? Easy enough tutorial? Is it a project you plan on tackling?
—
Update: Many of you have inquired about the paint color of the walls – it's Timber Dust by Valspar, available at Lowe's. Although, I'm sure Home Depot would be able to match it with another brand of paint.

facebook // twitter // instagram // pinterest // bloglovin'