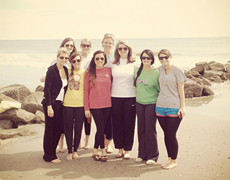 Recently, several people have asked me how I handled moving from Savannah, back home to get married. Because of this, I'm going to talk a little bit about it.
A month or so before our wedding, I still hadn't accepted the reality of a possible move or how drastically my life was changing. It was as if once I was married, life wouldn't change. In my head, I wasn't about to say good-bye to my life in Savannah. I wouldn't admit it; I hadn't resigned from my current job; I hadn't talked to my landlord; I was still pretending there was no option to move… Denial. After months of on-my-knees praying, the Lord's answer was in my face. I asked for flashing red lights and fireworks, people – and He delivered.
A friend-of-a-friend approached me about subleasing my apartment, an out of my lease 6 months early. Read, red flashing lights. But at this point, Justin still didn't have a job anywhere – not in Albany or Savannah. So we waited and prayed some more.
A few days later, I was officially offered a job… in Albany. With the offer pending, we prayed some more. Read, more flashing red lights.
With only 3 weeks before our big day, Justin was offered a job… in Albany. Initially, I was definitely discouraged and disappointed that my dreams of starting our life together in Savannah was crushed, but I can't say I wasn't excited for him – or us. Read, fireworks!!
So in April of 2012, I packed up my bags and moved home. The decision wasn't an easy one. In fact, my co-workers and friends in Savannah thought I was crazy for taking so long to make (what to them was) an obvious decision. But it was hard – so, so hard. One of the hardest decisions of my life, honestly.
At the end of the day, the Lord made it clear to me – whenever I decided to spend forever with Justin, there was no "but only if we live in Savannah" exception. And it's true. Despite the battle of to move or not to move, there was never a moment when I thought about calling off the wedding. Never a time when I thought, let's just wait awhile to get hitched. No, "Am I making the right decision?" thoughts. That was one thing I knew for certain; I knew I wanted to spend the rest of my life with Justin – whether that be in Albany, Savannah, or Boring, Oregon. (That's actually a city!) So there it was, in all it's red flashing lights glory, my answer!
I'd be lying if I said the transition was an easy one. It's been hard to adjust to life back home! But, Justin makes life here easy. He makes it fun and exciting. He makes it a happy place for me. Plus, I've been blessed beyond measure with friends and family that live nearby and make life here easier, along with a great church family too.
Since beginning our life together here – at home – we've spent countless hours with our families. We've bought our first home! Life here is how Chevvy & Ron's began. It's where I've been fortunate enough to have Wednesday night dinners with my sweet mama. It's the city we've reconnected with old friends and made new ones along the way. It's home.
—
What do I miss most about Savannah? The conversations and gatherings with this group of friends. I miss them the most! Fortunately, we've got weddings, Google+ hangouts, and baby showers to reunite and catch up.
Speaking of babies, my friend Liz just announced yesterday that she's expecting a boy! Beyond excited and happy for her and Bobby.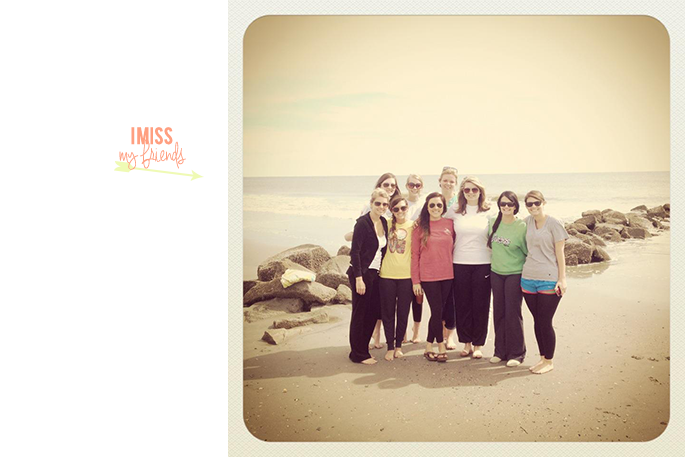 For a time in my life, this was my family (+ Julie and the Callaway ladies). We gathered together (almost daily) for family dinners and conversations around Liz's kitchen table. But instead of crying because those days are long gone, I'm smiling because we've got a wedding coming up – in a mere week and 1/2 – that I'll get to hug each of their necks. It's this whole missing-my-friends thing, that will make me forever thankful for the seemingly-endless parties, showers, and weddings!

facebook // twitter // instagram // pinterest // bloglovin'