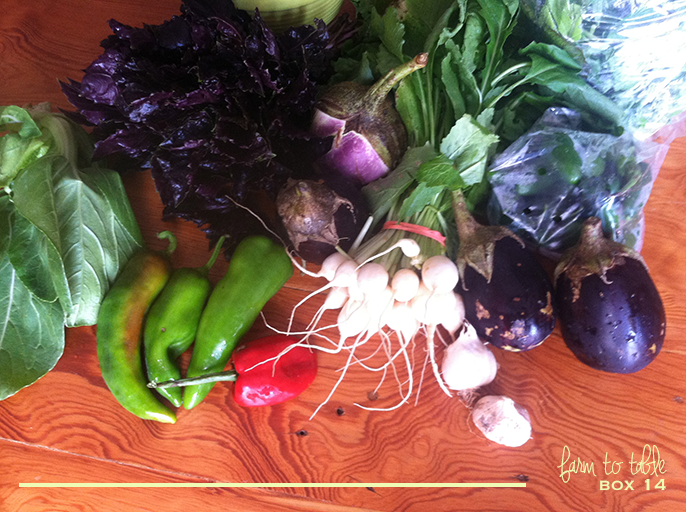 Unfortunately the delivery truck for last week's CSA crate was in an accident, meaning no vegetables for us, but fortunately no one was injured! To make up for the incident, White Oak Pastures will be extending our rotation an additional week into winter.
Yesterday, I picked up our goodies from our local pick-up. Full of color and variety, we were thrilled with our weekly produce. Check out the beautiful array of colors!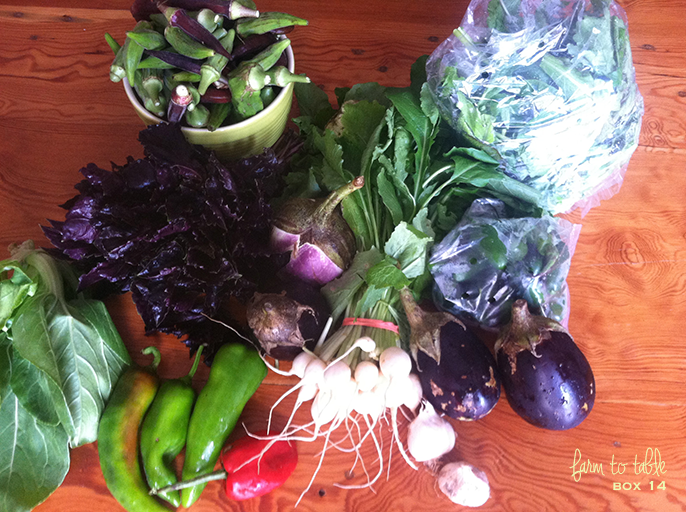 So, what certified organic vegetables arrived in box 14?
Braising Mix | A variety of arugula, mizuna, tat soi, baby kale, and more! 
Sweet Potatoes or Sunchokes | We got the sweet potatoes!
Okra 
Young Turnips and Turnip Greens 
Eggplant | Maybe I'll finally share our eggplant parmesan recipe!
Peppers
Garlic 
Mixed Hot Peppers (mostly jalapeños!)
Bok Choi | Sometimes called Chinese cabbage, this Asian green can be cooked almost as many ways as it can be spelled.
Basil | You may not recognize it in the photo above, because it's purple this week!
A few dinner options for the week,
roasted okra eggplant parmesan stuffed peppers bok choi wrapped in bacon more,
homemade pesto
If you are interested in finding and joining a CSA in your area, use LocalHarvest.org! If you're a fellow, CSA subscriber, I'd love for you to link-up and share your recipes.

facebook // twitter // instagram // pinterest // bloglovin'