Our journey to healthier and toxin-free living started shortly before we were expecting Joy Belle. With research and reviews, I tried determined safe brands that I felt were suitable for our family – from farm fresh groceries, to household products. While pregnant, I registered for "organic" and "natural" baby products, invested in cloth diapers, and drank my veggie smoothies. It wasn't until Joy Belle was here and had a terrible reaction to some of these "natural" products that I began reading labels.
As it turns out, our world is full of green washed labels – branding that implies toxin, paraben, sulfate, phthalate free but isn't. (I highly recommend reading The Honest Life: Living Naturally and True to You. It gave me a good understanding of what products are harmful to us and how companies are using them in so many of our every day products.) This brand I had trusted isn't a bad company, but had an ingredient that Joy Belle was sensitive to. It was a good learning moment for me, as it made me be more cautious and aware of what I expose her to – as well as the rest of our family.
It didn't take too long for me to compile a list of safe products and brands for our family's daily uses; a list including products by Young Living and Beautycounter. Most of my homemade rubs, remedies, sprays, bath bombs, and ointments include Young Living's essential oils, specifically lavender. For us, essential oils have been life changing and made our journey to a healthier lifestyle easier. You can read more about our journey and how I use them for our little ones here.
While pregnant with Britt, a friend gifted us with some baby shampoo and wash by Beautycounter. We were still using another brand shampoo and wash for Joy Belle, so I stashed it away until he was born. Once he was here, I figured I would finish out the open bottle of wash and I would try out the Beautycounter wash later. In the first few weeks of Britt's life, he had a bumpy rash on this thighs and shoulders – at times, it would be over most of his body. The doctor diagnosed it as keratosis pilaris. No matter what I used to moisturize his skin, the rash wasn't going away.
A few weeks later, we ran out of the other bath wash and I grabbed the new bottle of wash and shampoo by Beautycounter. The very next morning, no exaggeration, Britt's skin was smooth – like a baby's bottom. It was amazing and I was sold. Since then, you'll find Beautycounter wash and shampoo in the kids tub.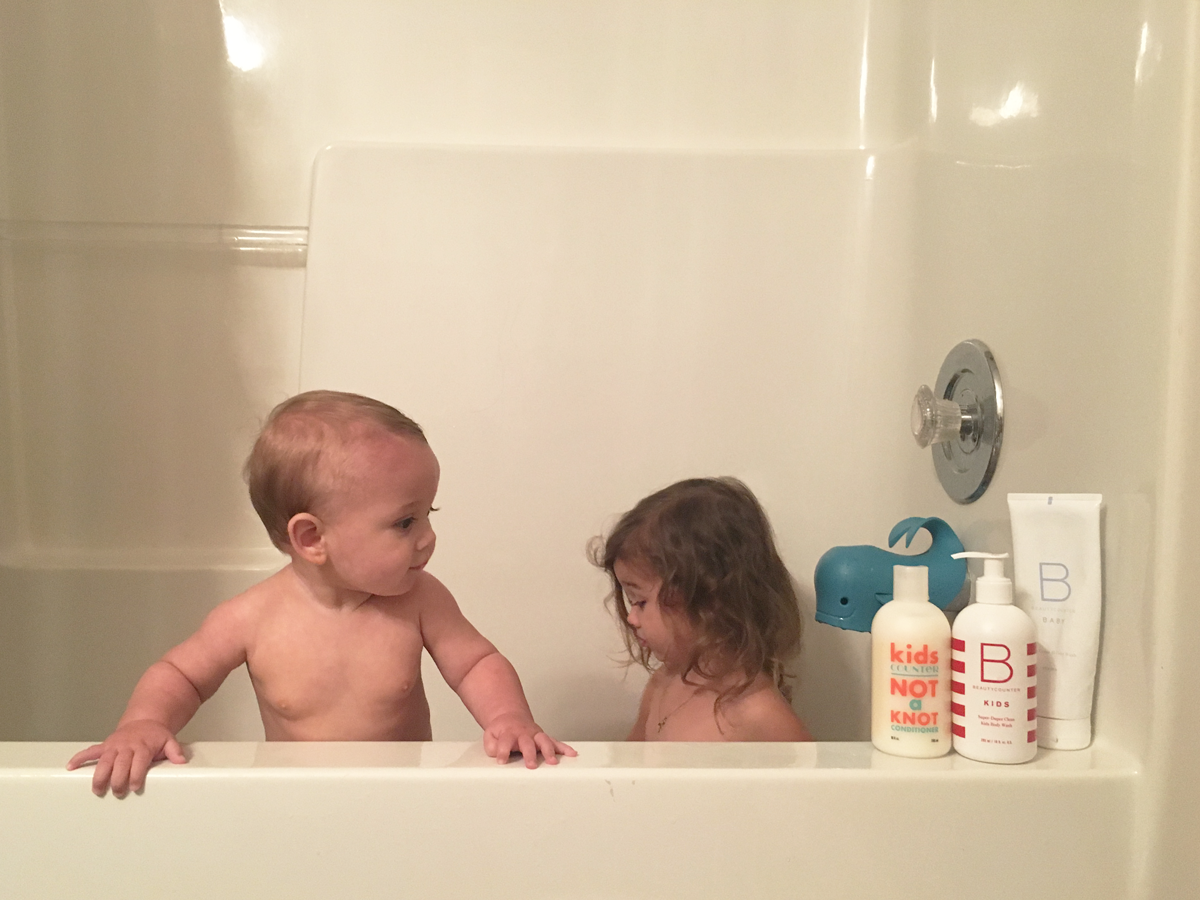 (sources: Beautycounter kids conditioner; kids wash; baby wash)
Because I love the products so much, Shannon offered to giveaway a bottle of Beautycounter baby wash to one of my readers! There are several ways to earn an entry, including joining her group on Facebook, tweeting about this giveaway, and commenting which (if any!) Beautycounter product you would like to try.
Thank you so much, Shannon, for sponsoring this post and inspiring other mamas to use safe, toxin-free products on themselves and their loves. If you're interested in the Beautycounter brand, you don't want to miss the Best of Beautycounter promo going on. For a limited time, get a free, travel-sized product when you purchase any of these customer favorites.