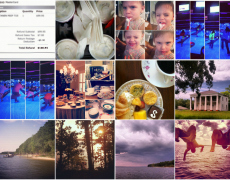 Why is it that Mondays are typically so terrible? For me, it's the back-to-work, the-weekend-is-over, grown-up-life-continues, reality that makes me dislike Mondays to the extreme – but, I'm really hating this Monday morning. First, my family is at the beach without me. Second, a pesky bee (or wasp – I did not identify this bug before the slap & swat) decided to sting me before work this morning. On my neck, which makes the pain incredibly worse. All I have to say is… I hope this week gets better! After all, it is my birthday week – eek!
In attempt to make this day better, I'm here with our Instagram Monday post.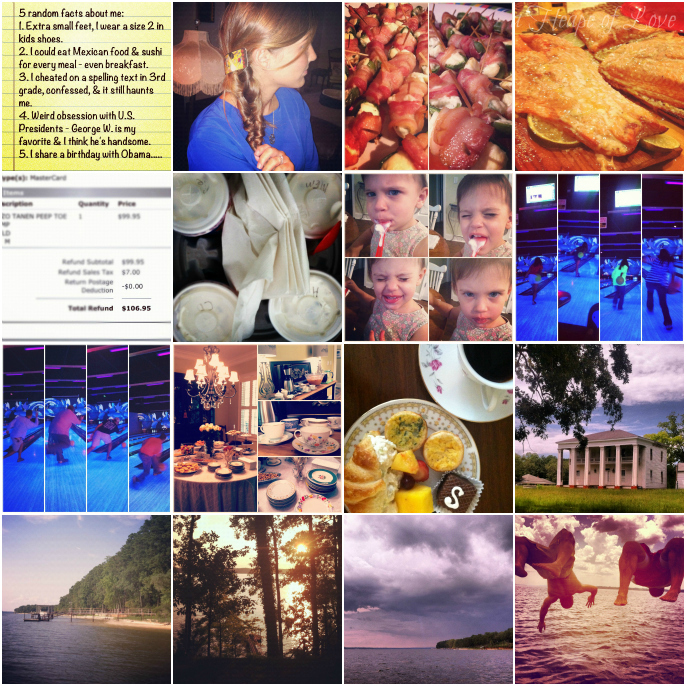 Recently, this "5 random facts about yourself" craze has been swarming Instagram and I was tagged. As a good sport, I played along.
5 random facts about me:
1. extra small feet, I wear a size 2 in kids shoes. truth! (a 2 in kids = a 4 in adults, try shopping for a pair of those)
2. I could eat Mexican food & sushi for every meal – even breakfast.
3. I cheated on a spelling test in 3rd grade, confessed, & it still haunts me. (just noticed that I misspelled test in the photo, whoops – I'm a terrible speller, which may be why I cheated in the first place)
4. Weird obsession with U.S. Presidents – George W. Bush is my favorite & I think he's handsome.
5. I share a birthday with Obama……
To continue our summer, birthday celebrations – we spent Tuesday and Wednesday with the Heape's for Mrs. Teresa's birthday! On Tuesday, she surprised us with gifts from their recent trip to Amsterdam, Poland, and Paris. Check out my lovely, handpainted barrette. On Wednesday, we grilled jalapeno poppers and honey, glazed salmon. Both were equally delicious!
I received a very special, sweet email from Jesus (okay, Nordstrom) giving me $106.95 – thank You, Lord! (Read here to find out more about this gift & to learn why I say it's from Jesus.)
To benefit the Children's Miracle Network Hospitals, Dairy Queen designated Thursday, July 26th as Miracle Treat Day. For each Blizzard® purchased, Dairy Queen would donated $1 or more to the local charity. To show my support, I bought 4 mini-Blizzards® for me, Justin, Mallory, and Beau. Beau loves Blizzards® – especially, Reese's ones, not so much the M&M one that we figured she'd like. It was a nice, surprise dessert and felt great to know I'd supported a good cause.
As newlyweds, Justin and I (along with a few other couples) have been trying out a new, Sunday school class at church. With the new class, we went bowling on Friday night to get to know everyone a bit better. We had a blast, although I am a terrible bowler. In fact, the guys asked on multiple occasions if we (girls) would just stop playing. Above are two, bluish photos – one of the girls bowling and one of the guys.
On Saturday morning, Mrs. Teresa and I hosted a bridal shower for Kaitlin. I originally met her through her husband, Kyle – who has been one of Justin's closest friends since… forever. They were married 1 week before Justin and I – which is why we are just now hosting a shower! Above are a couple of photos I captured at the shower.
After the shower, Justin surprised me with a trip to Lake Eufaula in Alabama for a mini-vacation. We joined another couple for a weekend on the water. We tested our skills on the wake-board, took late afternoon swims, overlooking the sunset, chased a small gator, and enjoyed a rainstorm. Our weekend was filled with lots of good food, a not-so-good movie, sun-kissed cheeks, and relaxation. It was simply perfect and such a great surprise. It was our first, couples trip and we can't wait to go back.
This week, we say good-bye to July and hello to August. And I say… good-bye 24, hello 25. We're celebrating my birthday in Naples, Florida – with these people and I'm so excited. So excited, I'm pondering a road-trip playlist and games for Justin and I to enjoy during our 6 1/2 hour drive. Any suggestions?
happy Monday,
the newlyweds