In the last week, Justin and I have packed, moved, and celebrated our 1 year anniversary. Talk about a milestone week! Obviously with so much happening, I've been all over the board with my Instagram pictures. To fill you in on most of the recent happenings, here is a week in the life of a Heape through Instagram photos.
1 / While packing, there was some purging going down. Guess? Did the high school cap make the it? Or was it trashed? 2 / Adios, Marsh Landings! See ya, apartment living. 3 / The packing, moving, and cleaning crew after
our big move
. 4 /
Filled our home with blessings, prayers, and scripture!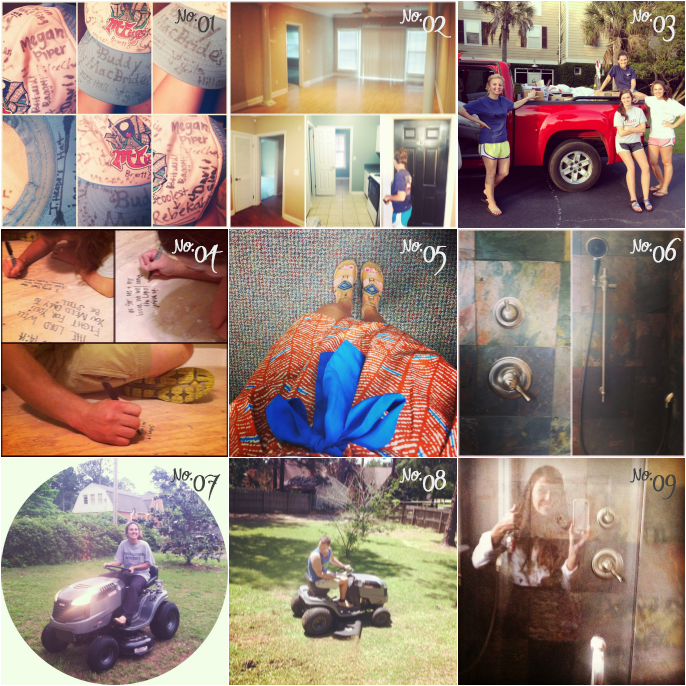 5 / Last week I was channeling my inner, Indian heritage. 6 / New, shower faucets and gadgets – check. 7 / Our neighbor lady and friend stopped by on her lawn mower to say, Hello! 8 / My honey mowing our first yard. 9 / Last details on the shower, glass is in!
(More on this to come.)
Linking up with this lovely lady, just because I liked her weekend recap post.
—
In case you missed it, we celebrated our 1 year anniversary this weekend! What did you do?

facebook // twitter // instagram // pinterest // bloglovin'