Growing up in Georgia, it's safe for me to say that I've taken fresh peaches for granted! Recognized as the Peach State, Georgia never disappoints with juicy, beautiful peaches. And I'm a BIG fan of the beauties! So much a fan, I couldn't resist incorporating them into our wedding decor (inspired by their colors) and details. Oh yes, we served homemade, peach ice cream at our wedding! (Along with boiled peanuts, so no denying it was a southern shindig.)
With peach season in full bloom, I couldn't help but indulge in all of the sweetness! You all know from this post that Justin and I are really into grilling our foods lately, this case was no exception. After adding peaches to our kabobs last week, I really wanted to try them as a dessert. Behold, grilled Georgia peaches with frozen yogurt was scooped into my bowl!
After posting the photo below on Instagram, many of you inquired about the recipe. And when you find out just how simple it is – you're all going to squeal in delight and serve up some for dessert (or dinner) tonight!
To begin, I sliced the peaches into halves and sprinkled with cinnamon. Although, I think brown sugar would be delicious too!
Tossed them on the grill (we grilled both sides).
Split into quarters, tossed them into bowls, and topped with Publix's vanilla bean frozen yogurt!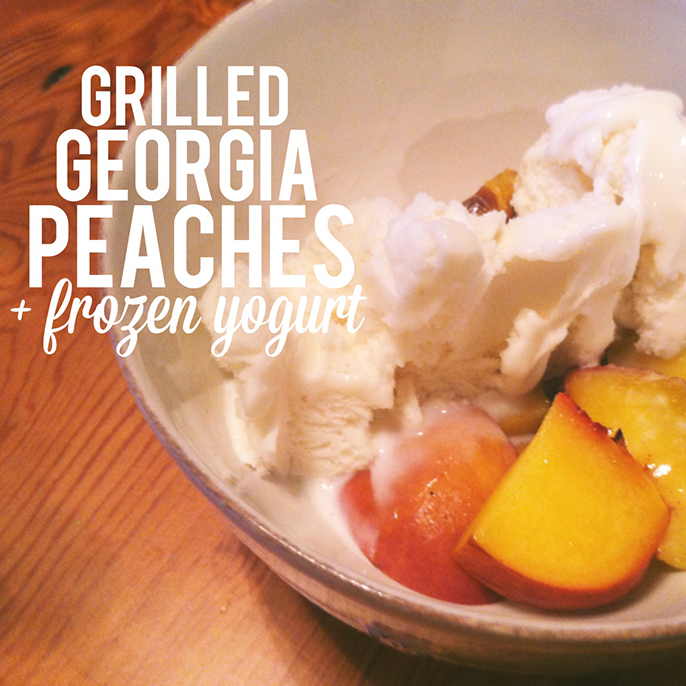 Very, very easy recipe for dessert and it received two-thumbs up around the house! We actually had the McBride clan over for dinner/dessert, and the little ones were big fans. (Of course, they preferred the "ice cream" over the fruit.)
Got any easy dessert recipes that are perfect for these hot, summer month? Please share!

facebook // twitter // instagram // pinterest // bloglovin'