Last month I decided to join a fellow blogger (which I still can't find) and share a list with you of our monthly finds. I had full intent to post this list last Friday, but if you've been keeping up with me on Instagram, you're aware that my last 10 days have been pretty crazy. From our trip to the Keys to our Halloween Soirée, I've barely had a moment to breathe! So a few days late, here is our November A-list: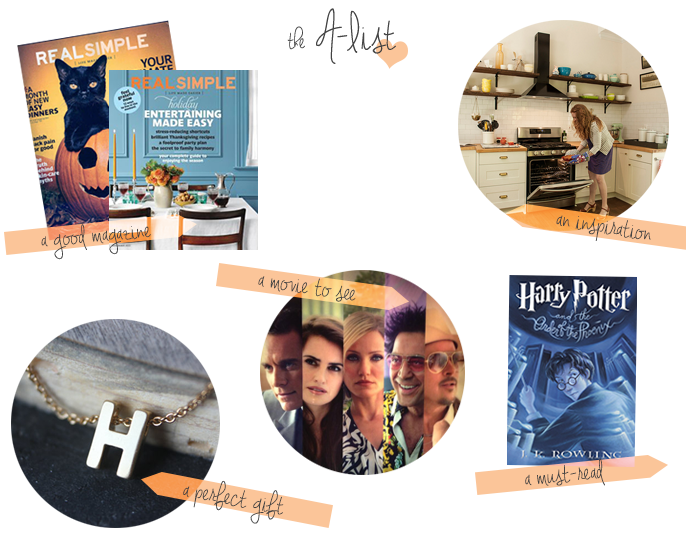 a good magazine // a perfect gift // a movie to see // a must-read // an inspiration 
Counterclockwise starting with the top left, I had to share my favorite magazine. Several months ago I began snagging this one and I've found so much inspiration for my home. Especially with the fall holidays, Real Simple has printed several holiday decoration spreads that are right up my alley. November's issue featured a guide to entertaining made simple and I adore their suggestions. In fact, I used some of their tips for our Halloween party last Thursday.
Next on the list, a perfect gift. With the holiday season nearing, I love finding simple gifts that work for stocking stuffers or Christmas parties, but are also personal. Recently, I stumbled upon this gem on Etsy and believe it to be the ideal gift for the season. Available in letters A-Z, it's a simple gift option that can be personalized and a great price point!
Seeing as I'm a big Brad Pitt fan and Justin has always had a crush on Penelope Cruz, it's no surprise that The Counselor is the movie to see on our list. With so many great actors in the film, it's bound to  be hit. (At least that's what we're thinking.)
As I mentioned last month, Justin and I are both reading the Harry Potter series. With that said, I couldn't not list the 5th book of the series, Harry Potter and the Order of the Phoenix. Although I'm only 300ish pages into the book, the whole series is worth reading.
Last but not least, an inspiration. After discovering Lesley's blog awhile back, I've become an avid reader and fan. Her style is similar to mine and I find I am so inspired by her posts – I had to share her link. Recently, she renovated her kitchen and the big reveal was nothing short of perfection. Plus, it was featured on HGTVRemodels.com! You must check it out.
—
Later this week, I plan on sharing all of our Harry Potter inspired, Halloween Soirèe details and photos – so be on the lookout!
What's on your A-list for November?

facebook // twitter // instagram // pinterest // bloglovin'