A lover of cheese, yes I am. I have and am pretty sure I always will be. Cheese is my jam.
With that out in the open, it's no surprise that cheese trays are my go-to appetizer. Recently, in an issue of Real Simple, a cheese tray was a tip for simple hosting. Why I hadn't thought of it sooner, I'll never know. Want to throw a party on a tight budget? Cheese tray. Want a easy appetizer for a gathering? Cheese tray. Want to contribute to a holiday get-together? Bring a cheese tray. It's really the perfect appetizer and who doesn't love cheese!
Inspired by Real Simple's October issue and our trip to Thomasville, here is my go-to cheese tray, along with tips for assembling your own!

Cheese! Choosing a variety of cheeses – preferably ones with various texture and flavors, is probably my #1 suggestion. Typical categories include soft, hard, aged, or moldy. One of each would be ideal for a larger get-together, but choosing two or three would be perfect for a smaller gathering.
A fruit or veggie or dip. You can't go wrong with pickles or olives. For this gathering, I opted for pear slices. (We happen to have a pear tree in our backyard!) Apples, figs, cherries or grapes would be delicious too. And anything pickled (asparagus, okra, jalapeños, etc.) would add variety! Other suggestions include preserves, hummus, artichoke hearts, mustard, or a chutney.
Nuts. For this particular tray, I used pecan halves – drizzled in honey. However almonds, peanuts, pistachios, cashews, or any nut really would be great!
Meat(s). Not necessarily a necessity, but definitely adds to the overall appearance and appeal. In our case, we had salami sliced fresh from the deli. Any cured meat (like prosciutto) would do!
Crackers/baguettes. The sky is the limit, but again, I suggest variety. Ritz Crackers are available in multiple flavors (definitely a more affordable option), but a variety of baguettes would be so appealing.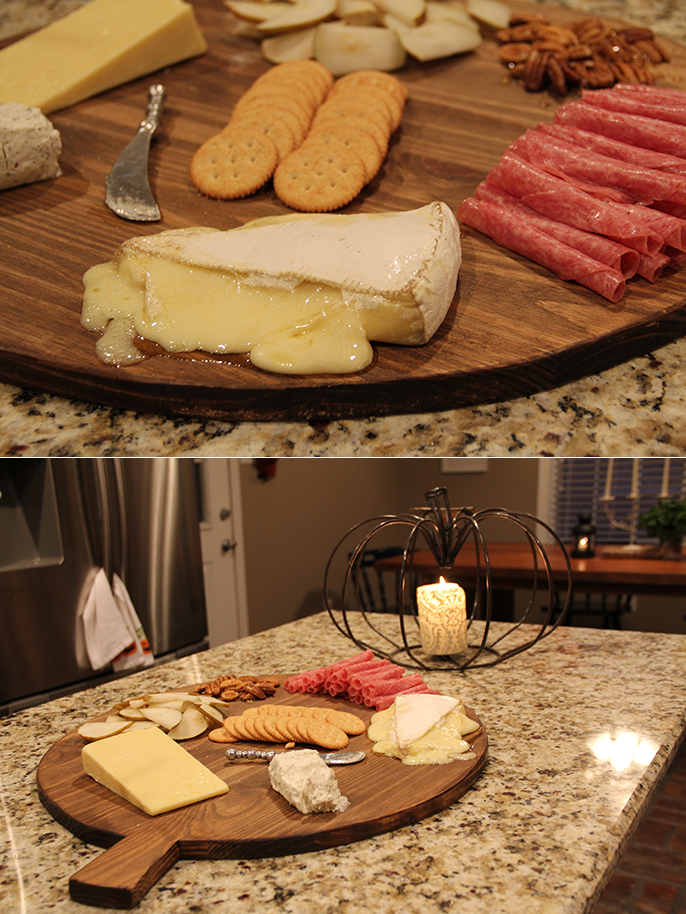 Pictured: a goat cheese, a swiss chess, and a brie, along with pecans, salami, pear slices, and Ritz crackers. We also served Wheat Thins.
Whenever choosing cheeses, you could go with a theme – ie. cheeses from Switzerland, or only goat cheeses.
Not sure how much cheese to serve? A simple tip would be to prepare 1 – 2 oz. per guest for an hors d'oeuvre hour or a bit less if it's an after dinner snack.
A cheese tray is perfect for a holiday gathering or any get-together really. Hope you enjoy!

facebook // twitter // instagram // pinterest // bloglovin'