Only one week into the new year and I can't express how much I'm looking forward to all 2014 is bound to hold! Not only are we welcoming a new addition to our family, but the Lord has promised great things to those who trust Him and we are ready for all He has in store.
Along with several obvious milestones, I like many have made a few resolutions for 2014 too.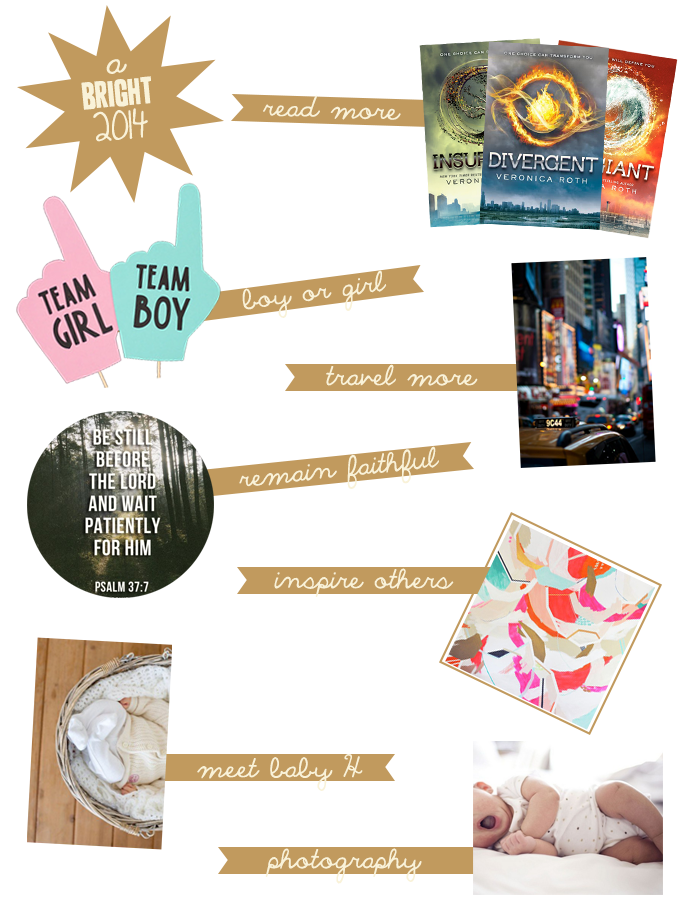 01 • 02 • 03 • 04 • 05 • 06 • 07
Read more. In 2014, I'm looking forward to reading more. Not that I don't necessarily do enough of it, but it's refreshing to find myself curled up with a good book oppose to filling my mind with the garbage on television. Recently I picked up the Divergent series by Veronica Roth, and I can't get enough. I've got Justin hooked too!
Find out if baby is a boy or girl. Like I mentioned before, we're scheduled to find out if baby Heape is a boy or a girl – very, very soon! Our actual appointment is scheduled for next week, so be sure to make your guesses. I absolutely love hearing what everyone believes baby will be. (You can cast your vote in our sidebar, to the right!)
Travel more. Together, Justin and I have vowed to travel more. Of course with a baby on the way, this one may be a bit of a challenge. However, his parents gifted us with a trip to New York for Christmas and we can not wait! We've got a few other cities to visit before baby is here too – so wish us luck.
Remain faithful. Psalm 37:7 has always spoken to me, but it's never seemed as real as it does today. Since as long as I can remember, I've prayed for the gift of Motherhood. Not that I had a timer ticking or felt any pressure to be a mother, it was just a gift that I've patiently waited for most of my life – for His timing. (I was the girl with a bazillion baby dolls, that were my babies.) That gift was given this year and I hope that I forever remember the years I patiently waited for that sweet, sweet gift from above. As we go through 2014, it's my wish that Justin and I are constantly reminded of the beautiful gifts the Lord has given us and all He's promised us too. I hope that throughout 2014, Justin and I consistently remain faithful to the One who has blessed us with so much!
Inspire others. In addition to growing in our faith, I hope that our journey inspires others. It's my constant desire that my life, my marriage, our family, and this blog inspire others to live for Christ. Whatever my venture, I hope my light always shines for Him.
Meet baby Heape. Of course, we can't wait to meet our sweet baby in (late June) early July! We've got so much to do before he/she is here, but the ultimate countdown is for our meeting day. There is no doubt in my mind, that birthday will be one of my favorites.
Learn the art of photography. Along with my other resolutions, I'm hoping to improve my photography skills. I've never claimed (nor probably ever will) to be a photographer, but to deny my love for photography would be silly. My photography skills are on an iPhone level and I'm okay with that most days, but I hope that as the year progresses so does my skill level in this area. With such a bright year ahead, I hope to use my talent to document it all – especially since I'll have such a sweet subject to capture.
What are you looking forward to in 2014? Did you make any resolutions?

facebook // twitter // instagram // pinterest // bloglovin'