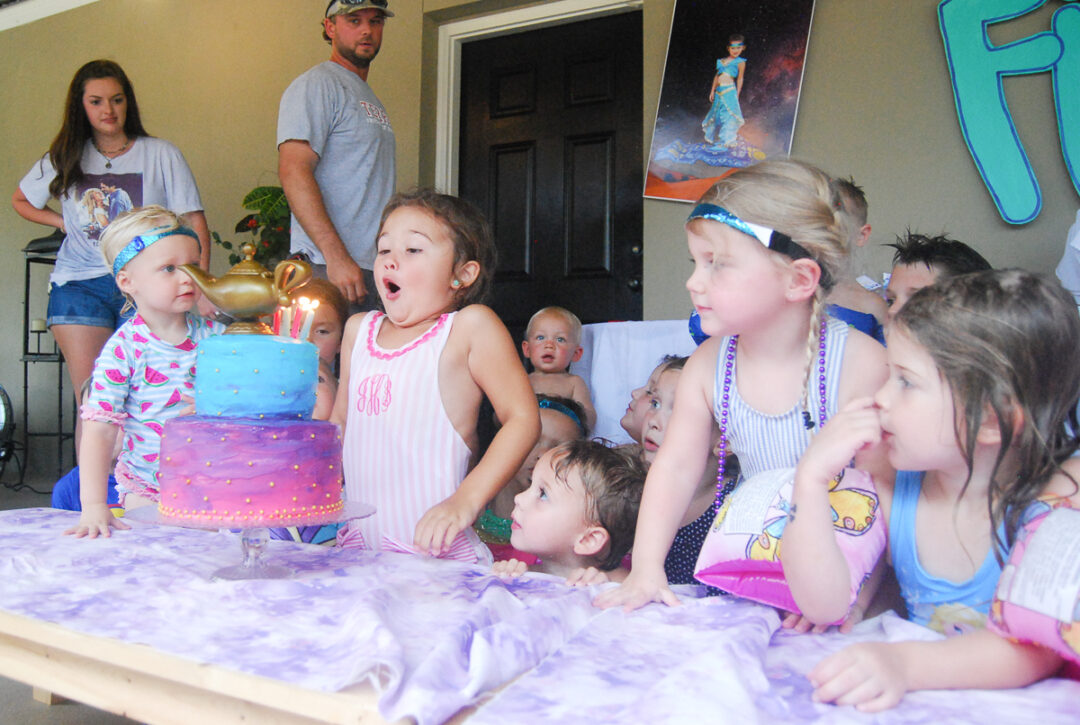 And just like that, another birthday has come and gone, and our girl is another year older. Over the last week and a half, Joy Belle has only said a dozen times, "I just can't believe I am five!" I feel the same way, babe.
If you know Joy Belle, it won't surprise you one bit to know that she's been planning this Jasmine birthday party since her last birthday party. She loves to plan a party and gets excited about all the little details. From the invitations, to the decor, she was involved in the vision and I just make it all happen. So without further adieu, this is how Joy Belle wanted to celebrate her birthday… an Arabian night, by the pool with her favorite people.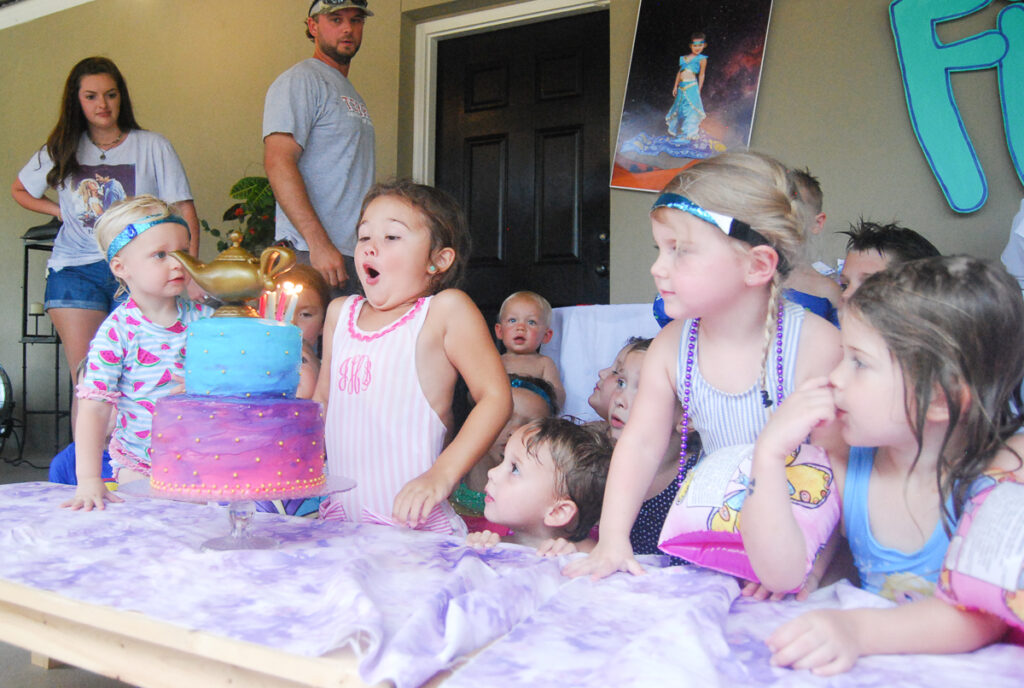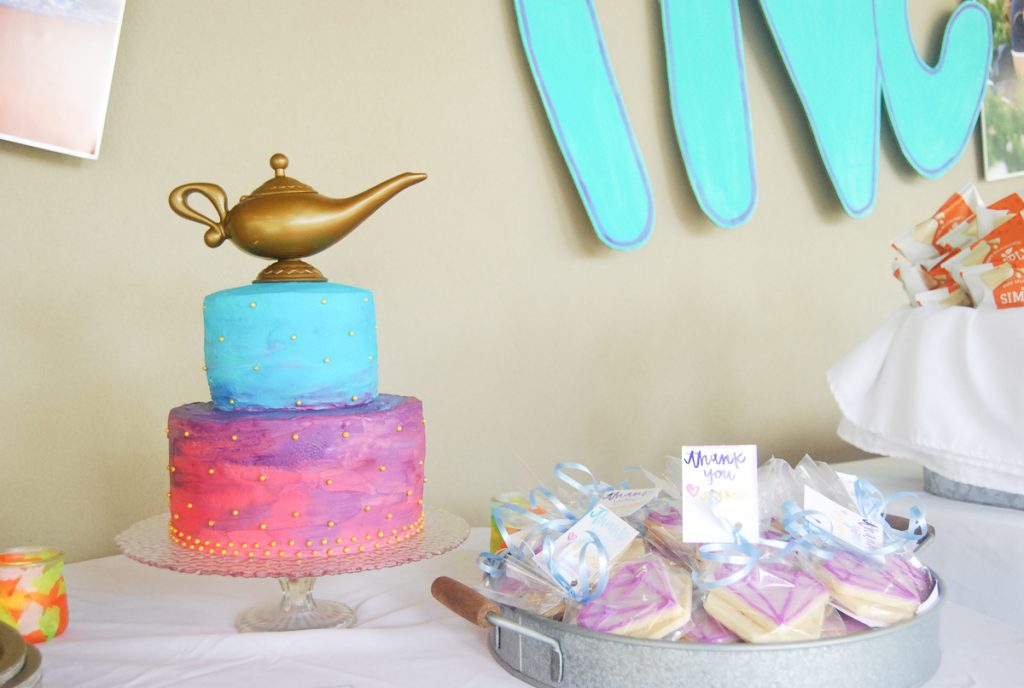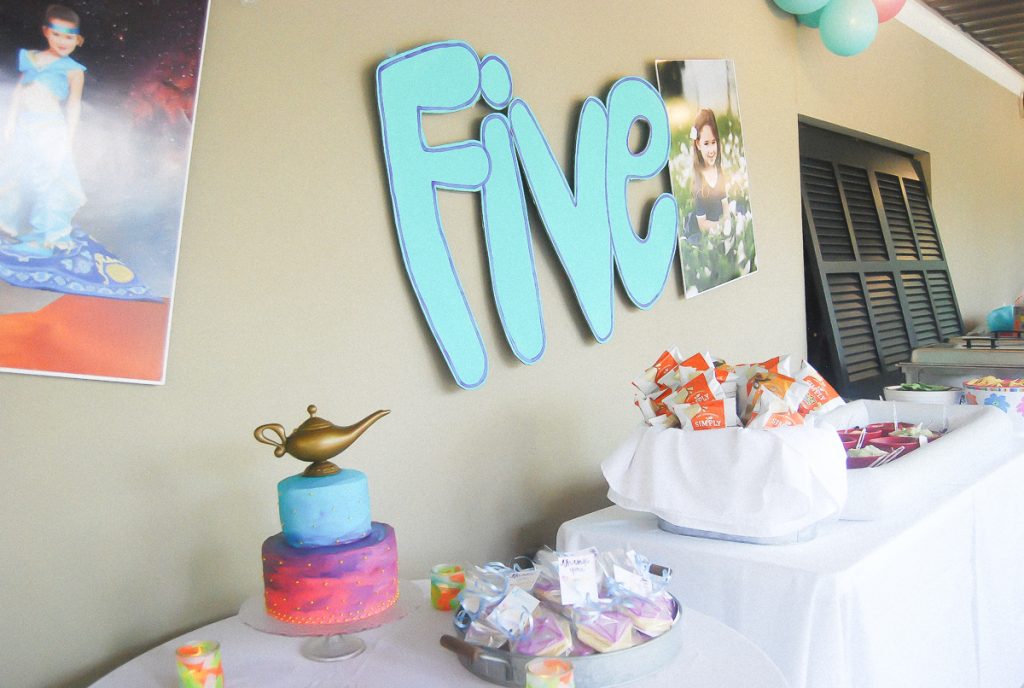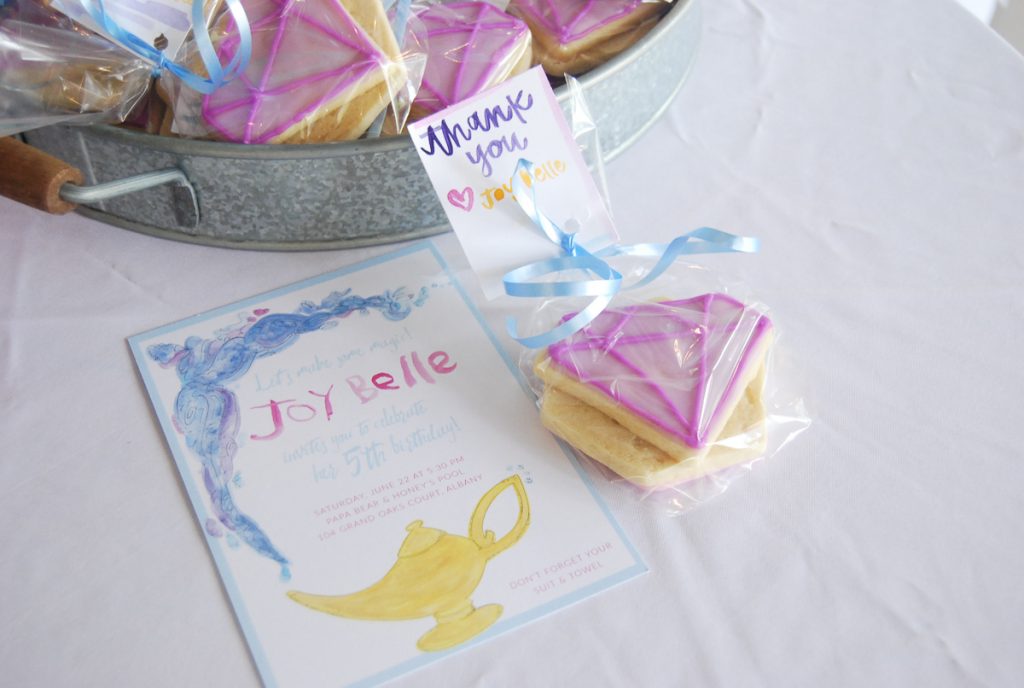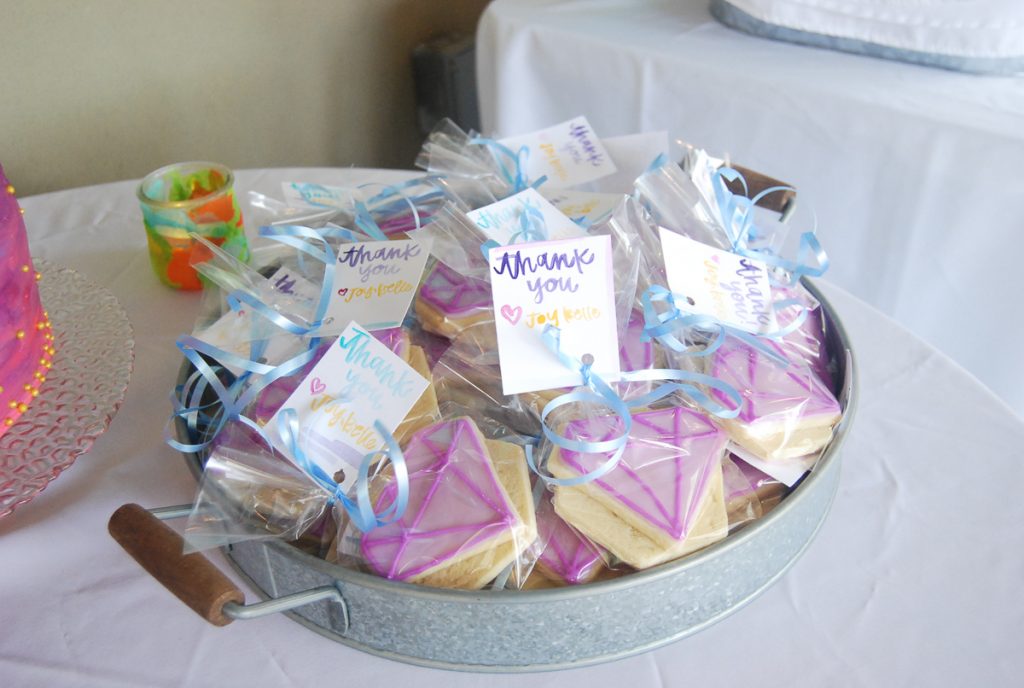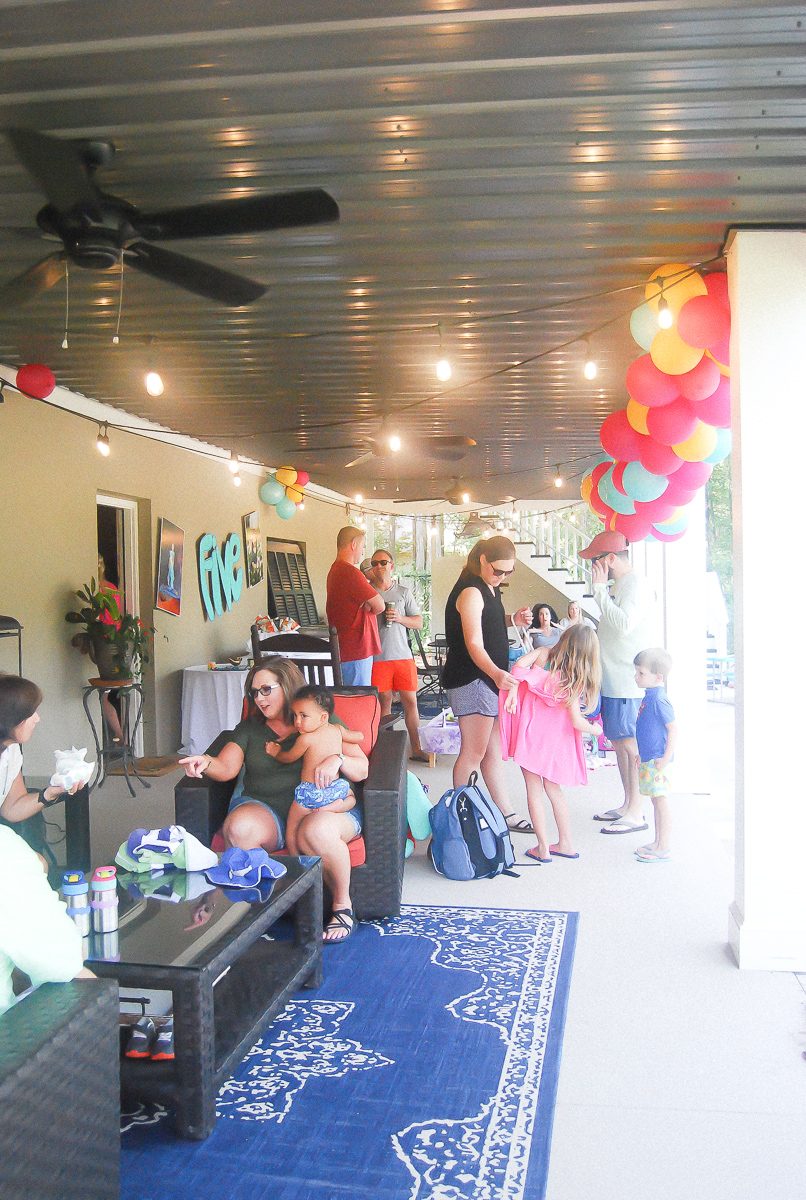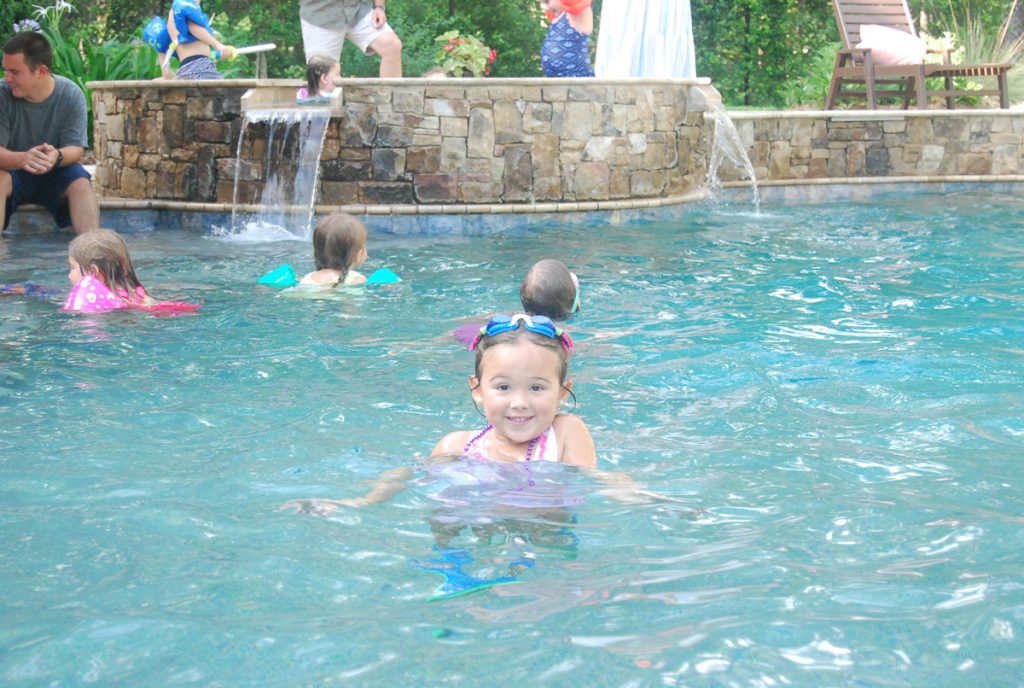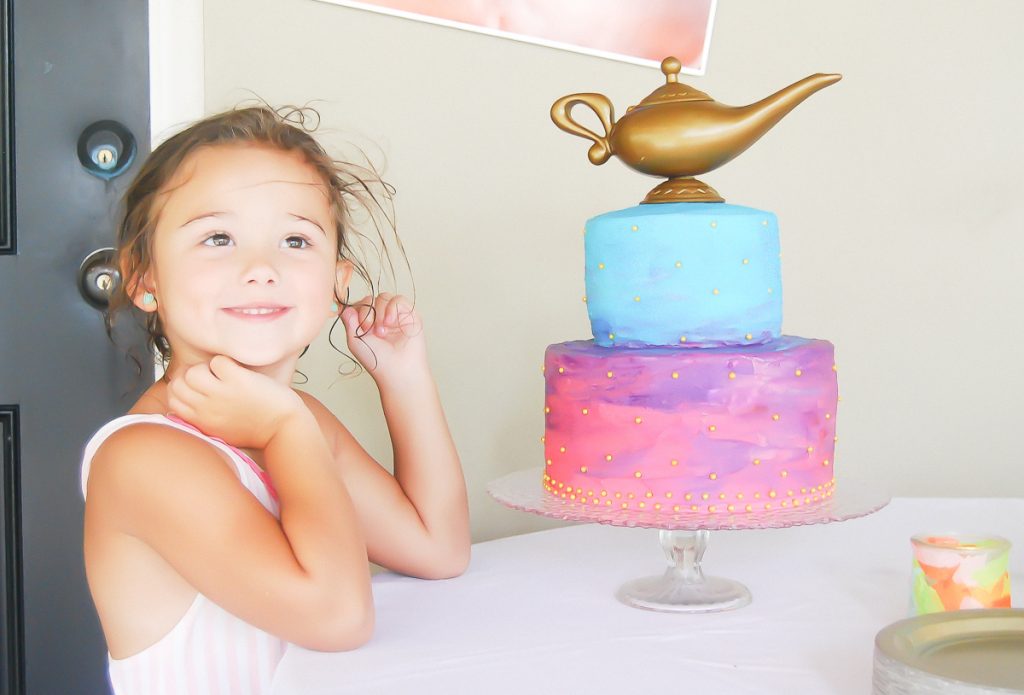 A really big thank you to everyone that came to celebrate with us. Your presence meant the world to Joy Belle and to me. It's always such a treat to see so many people show up to love on your babies.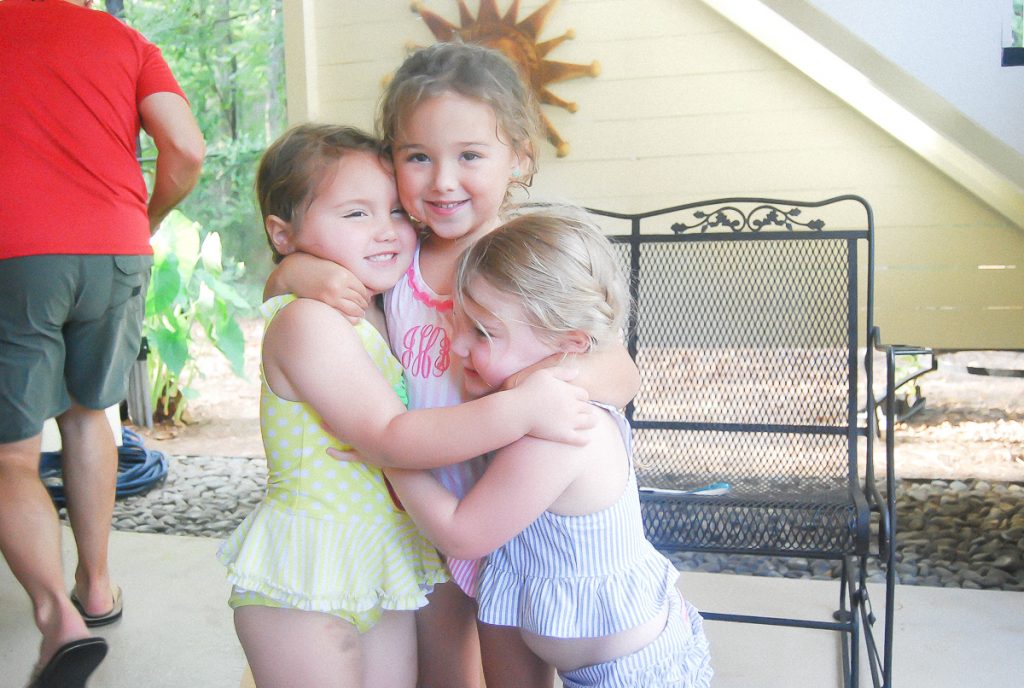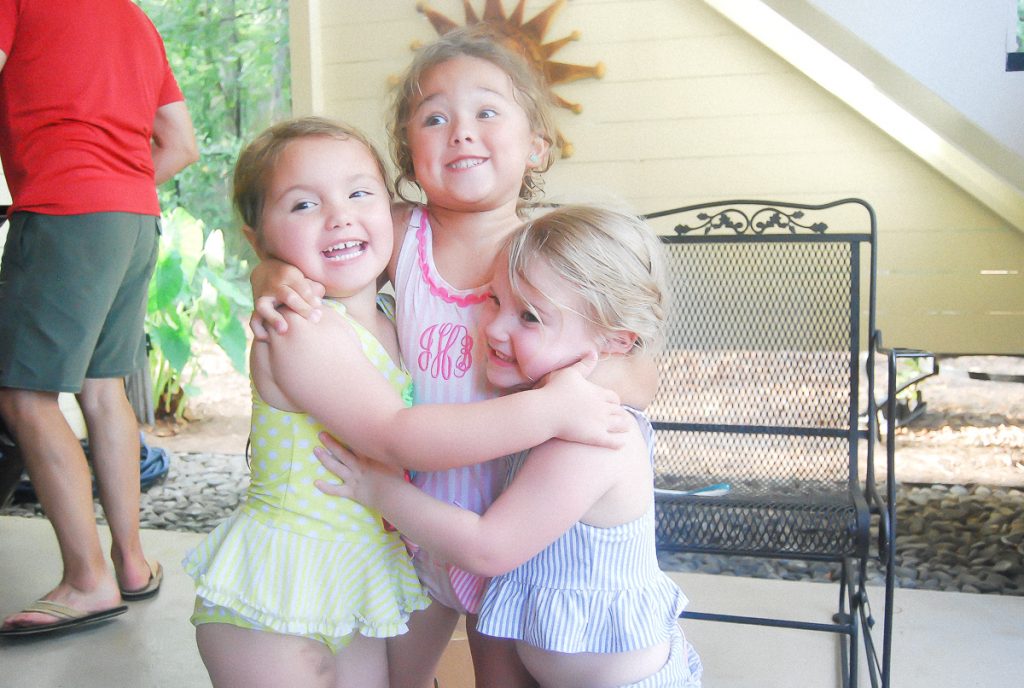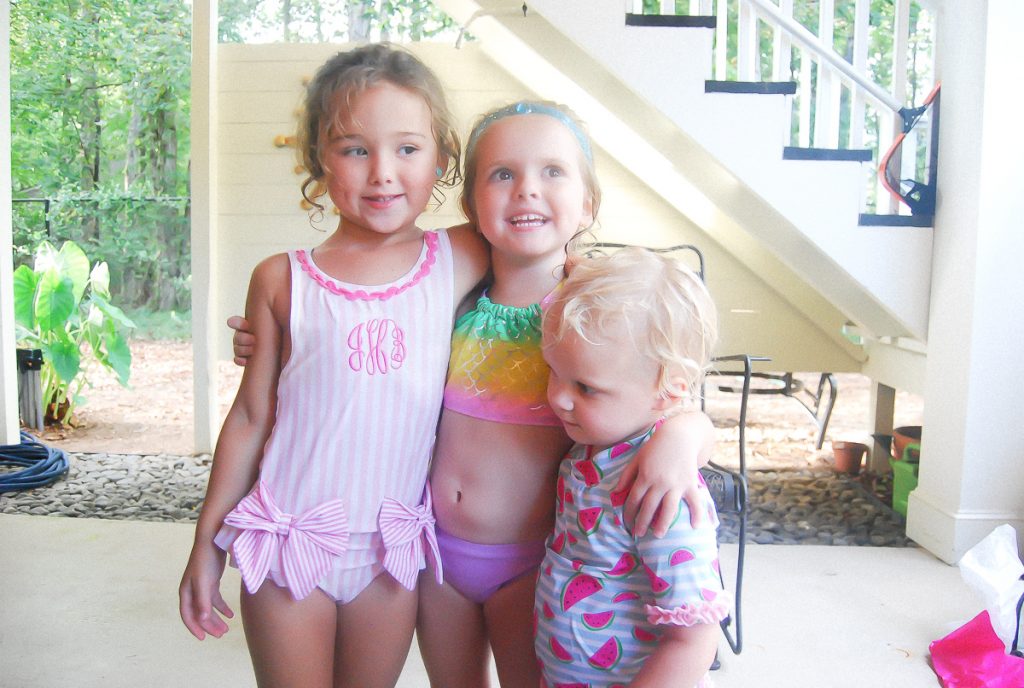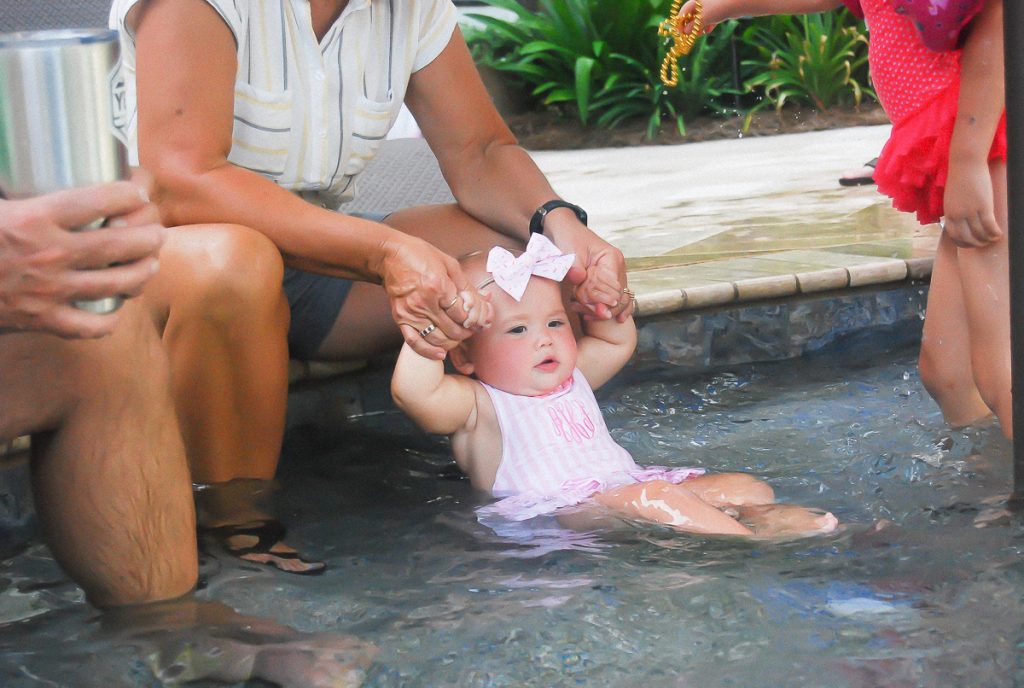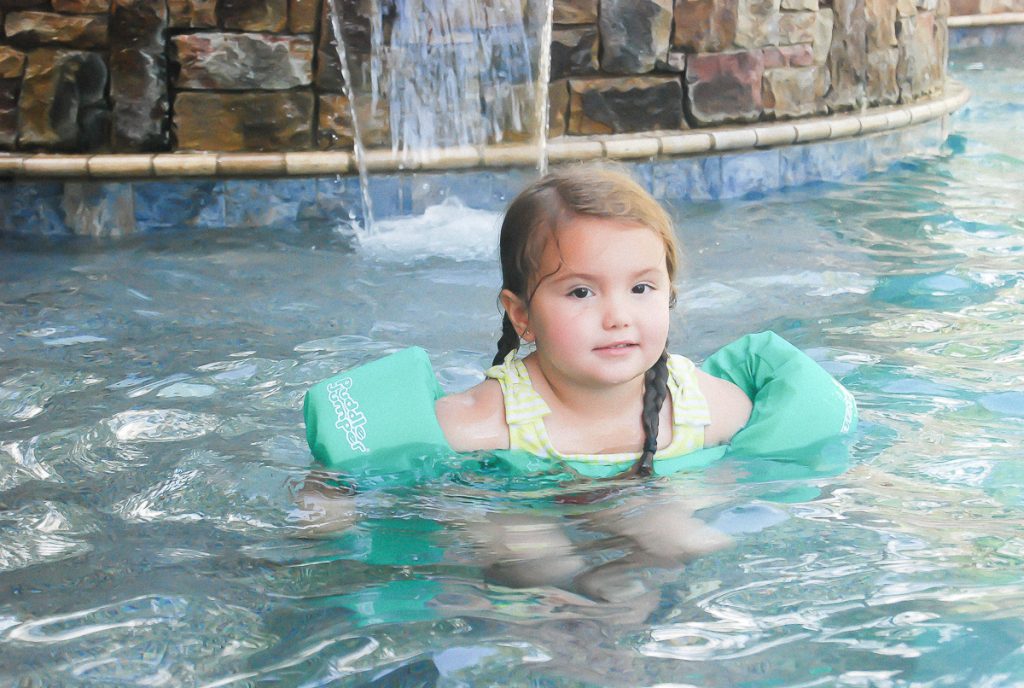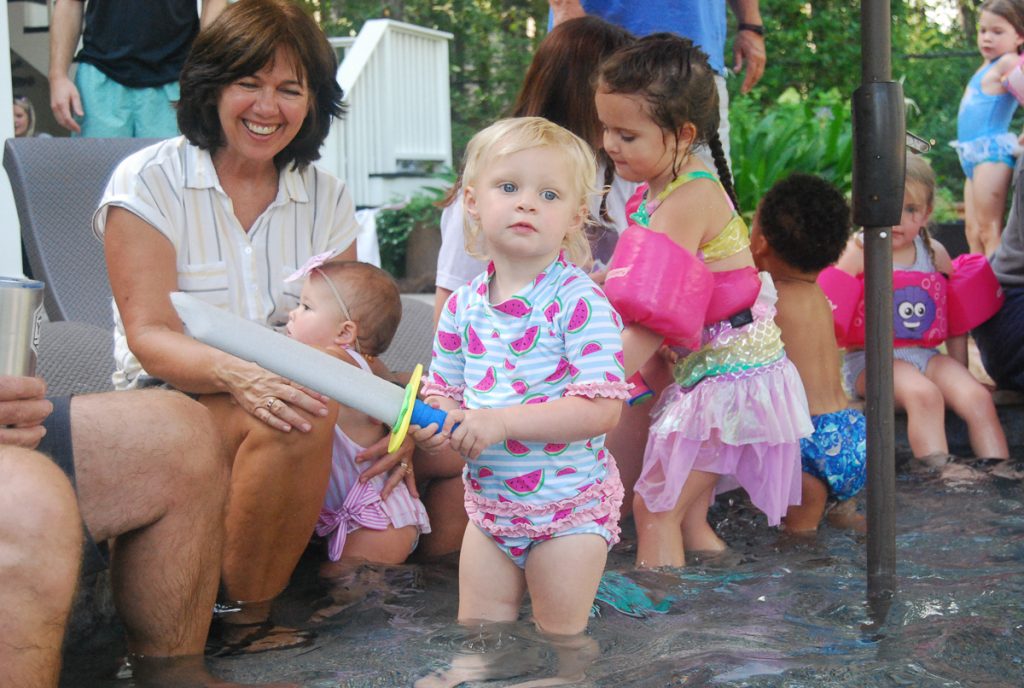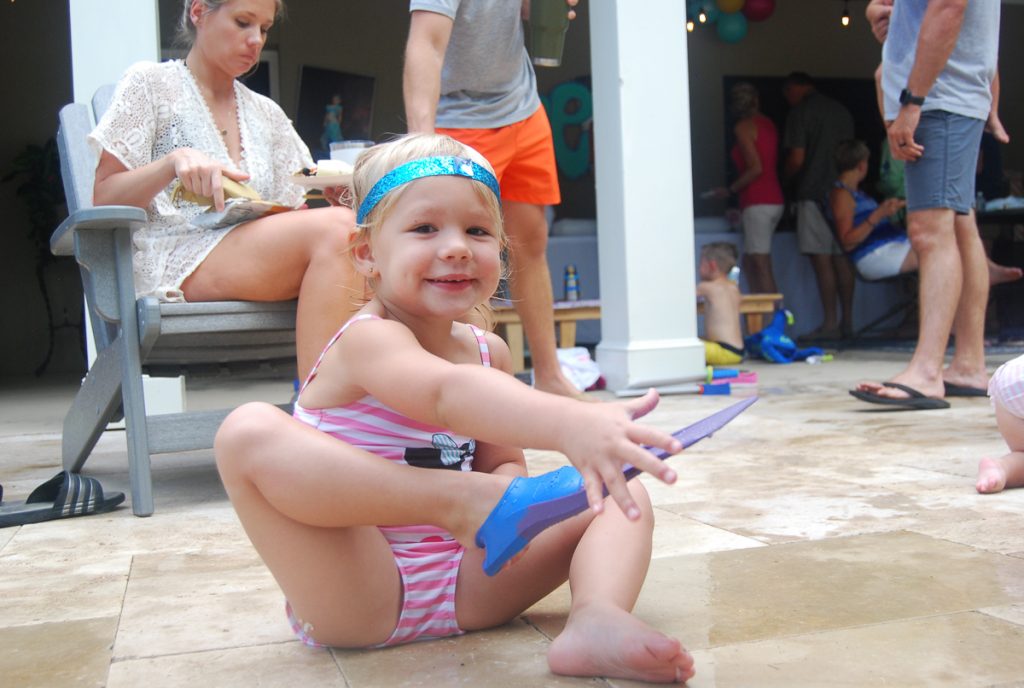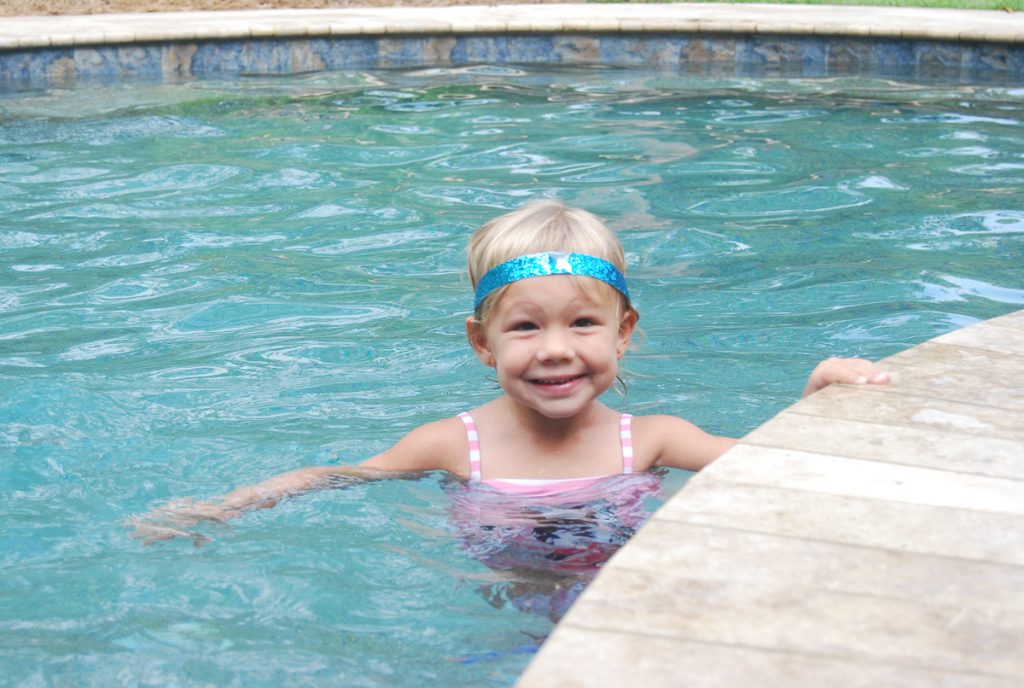 We were extra happy to have my sister, niece, and nephew fly in from across the country! It always makes celebrations extra special when we get to spend them with cousins.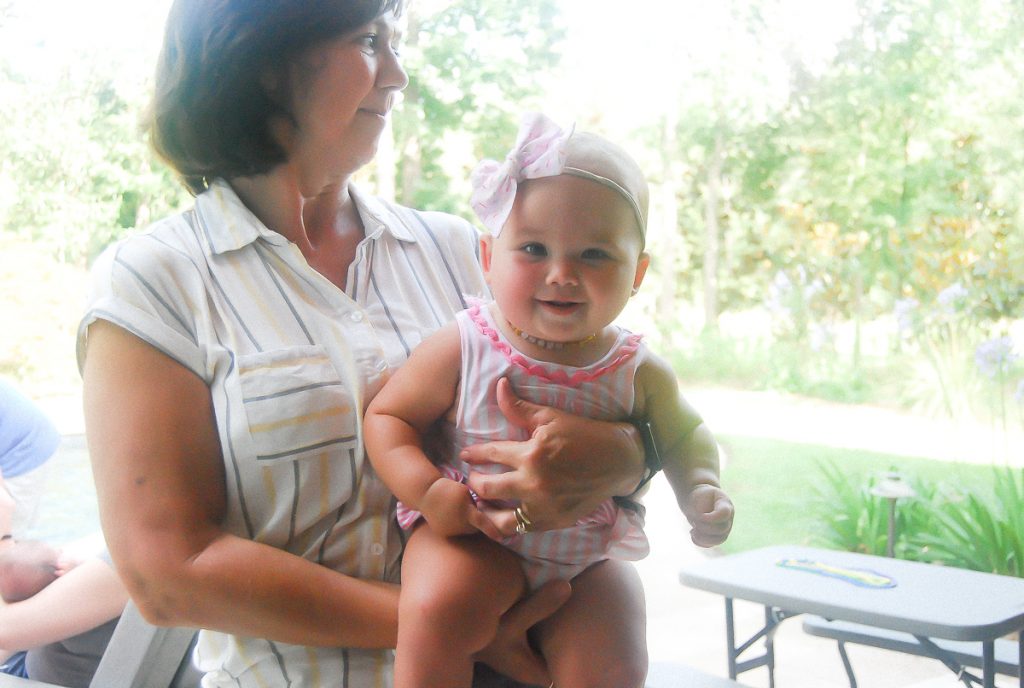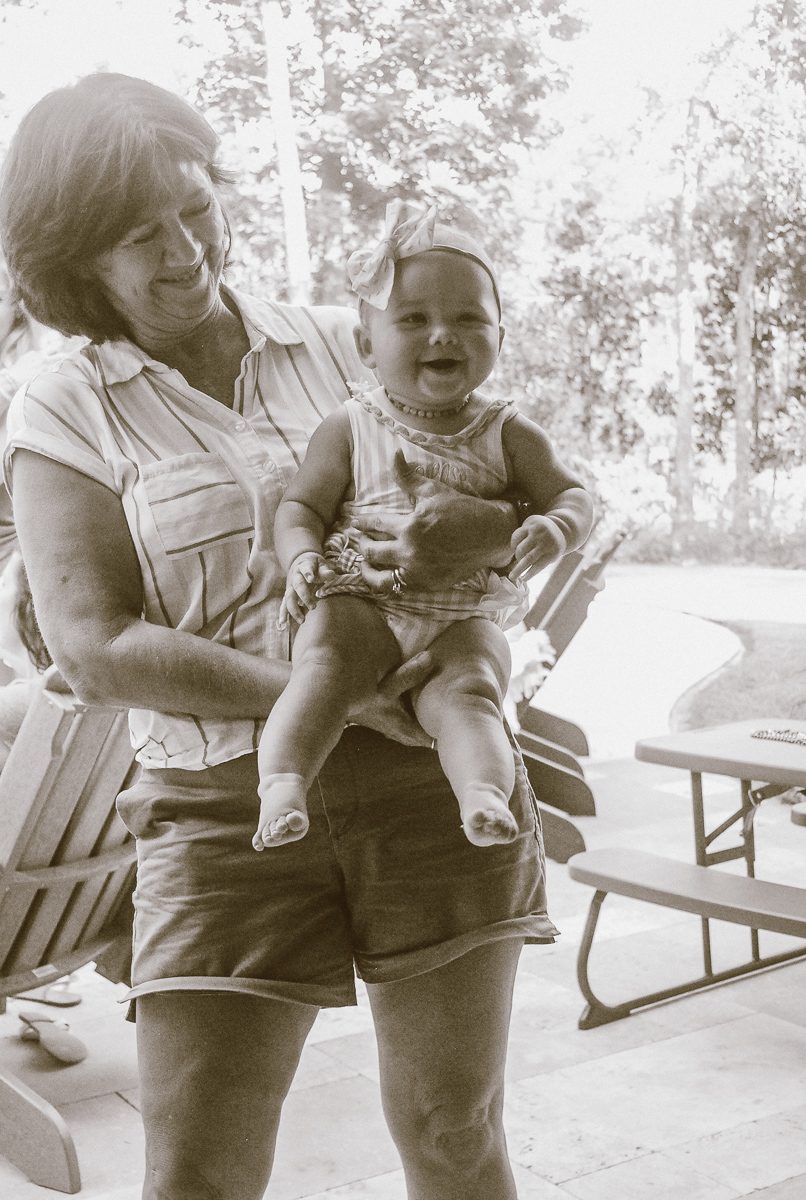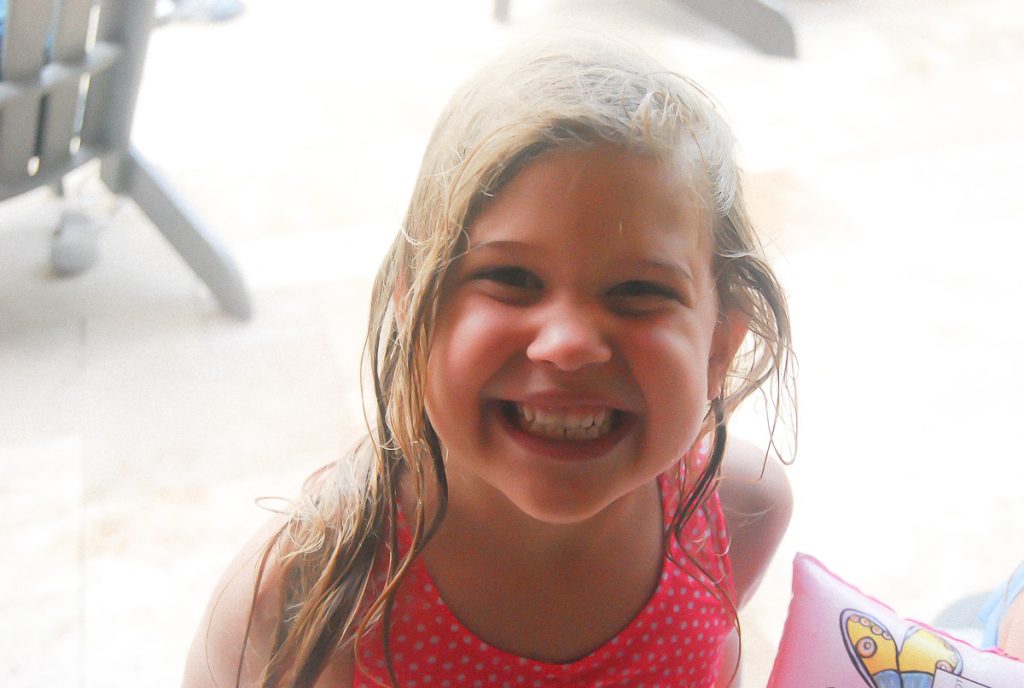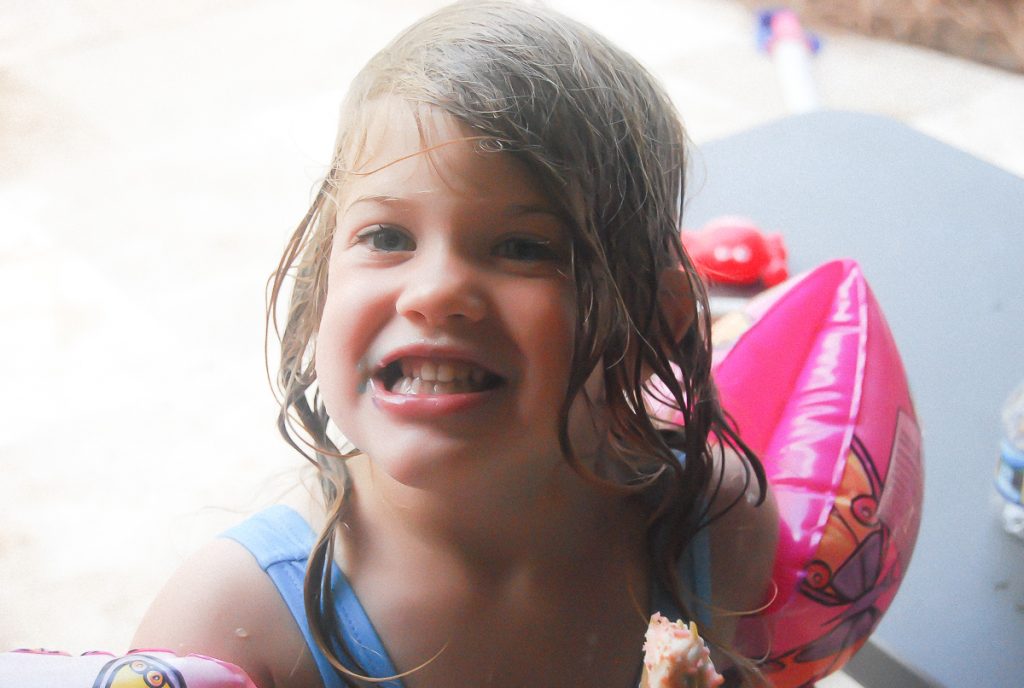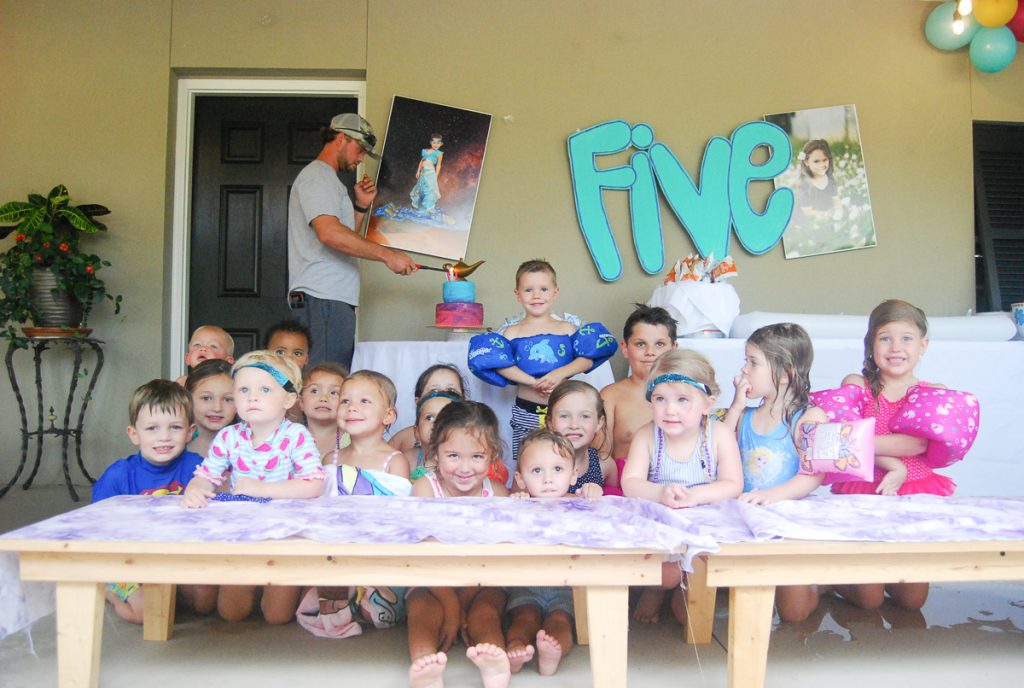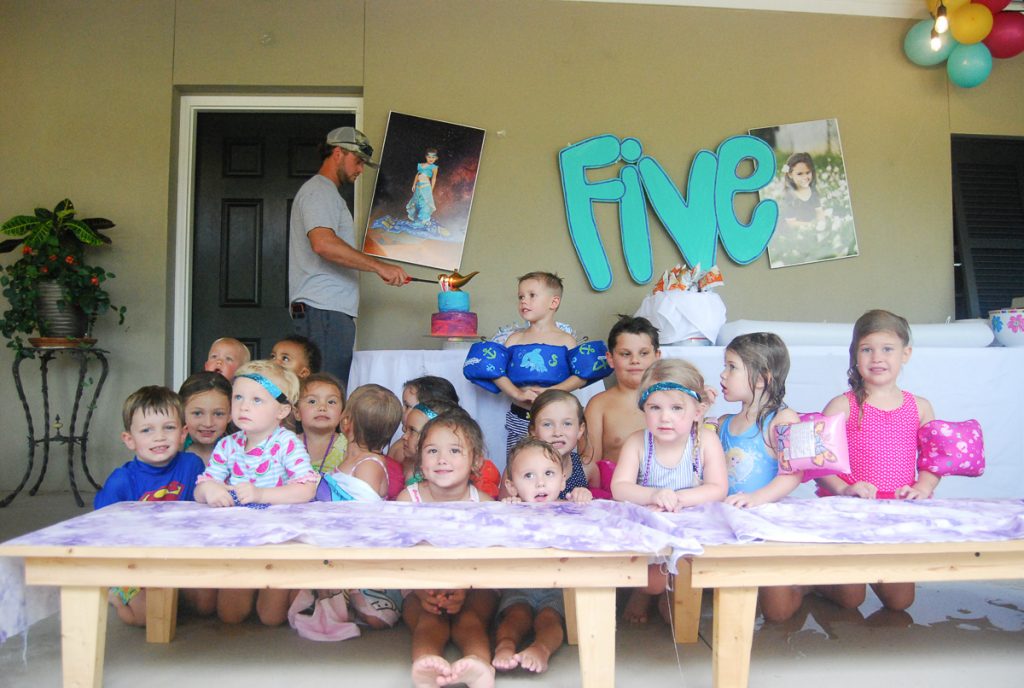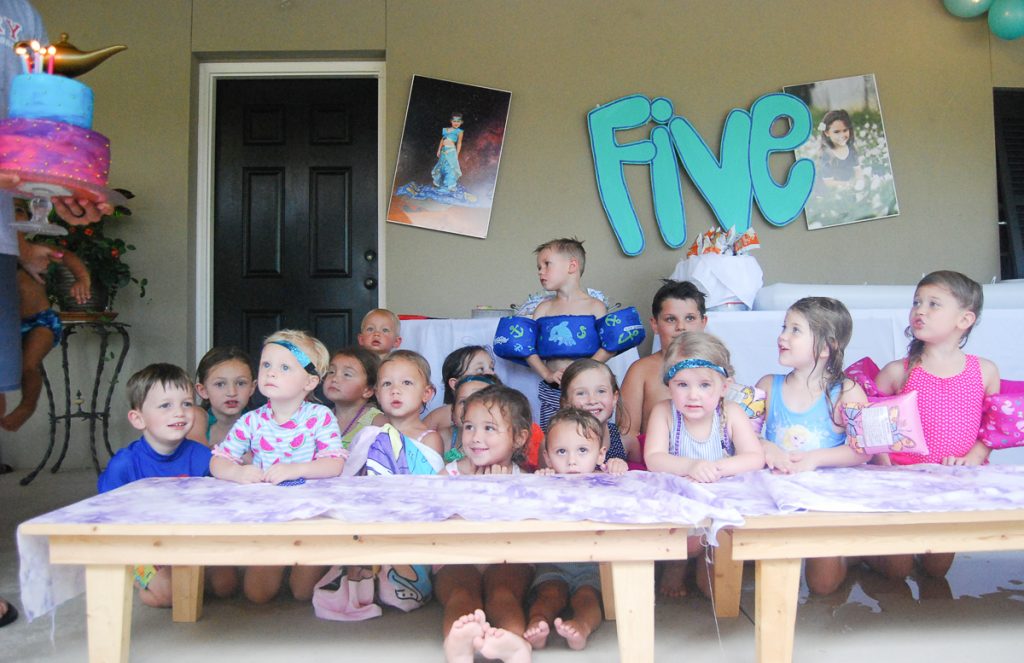 Some of my favorite old photos from my childhood birthday parties are the group photos of all the littles around the table. It's so fun to go back and see all of the tiny faces from year to year.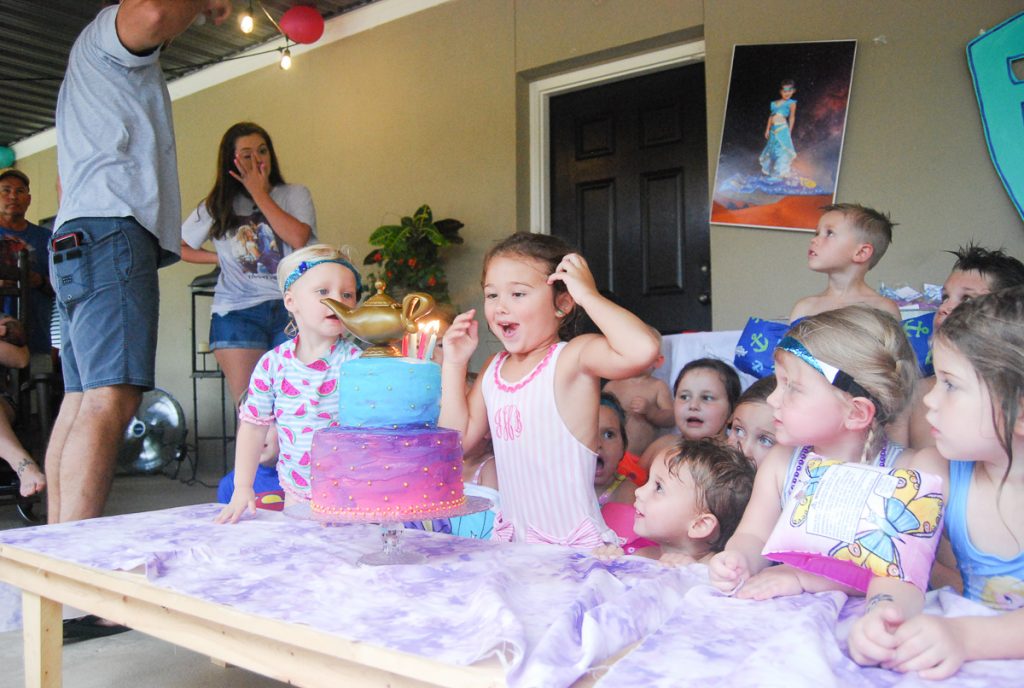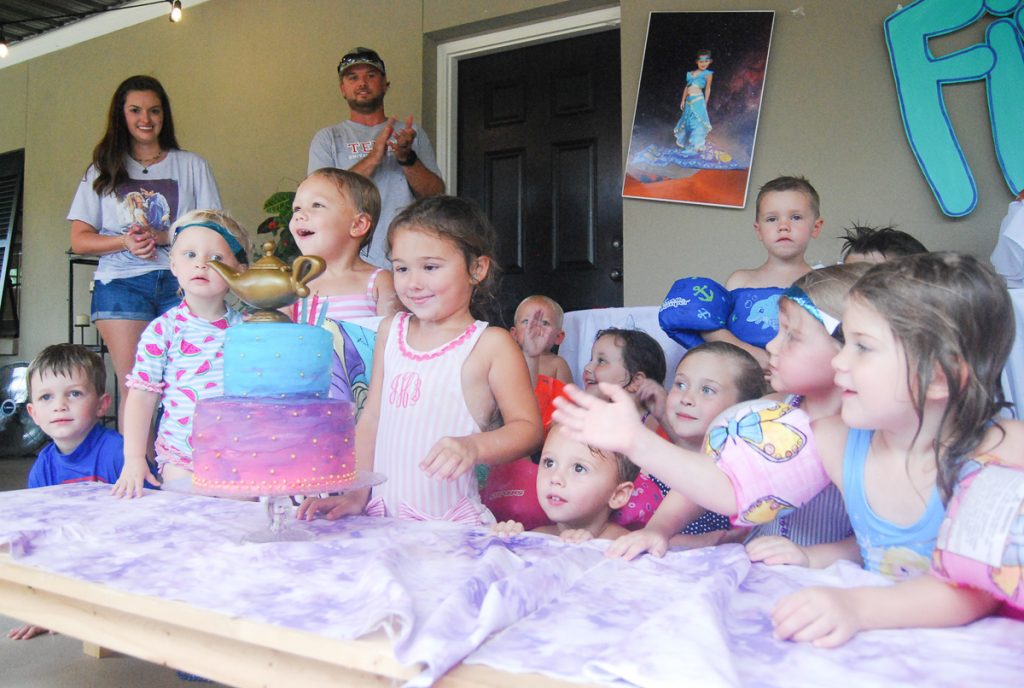 Throughout the evening, Joy Belle bossed everyone around with big announcements on what she was doing or wanting to do next. "Attention, everyone. I'm ready to eat dinner!" "Attention, everyone. It's time to sing 'Happy Birthday to me!'" It was seriously so funny and fun to watch, because it's such her personality.
Before dinner, she made an announcement and said she was going to say the blessing. My heart could have burst with pride. How many 5 year olds do you know that would ask to say the blessing? And in front of such a crowd? It was definitely a proud mama moment that I never want to forget.
She started her prayer with "Thank you, God, for my family and my friends." And somewhere in the middle, she said something along the lines of, "I love you, God, but I love my friends more." At that moment, it took a lot from the adults to keep our composure. Please check out Justin's face in the first photo, compared to the second. His reaction is priceless.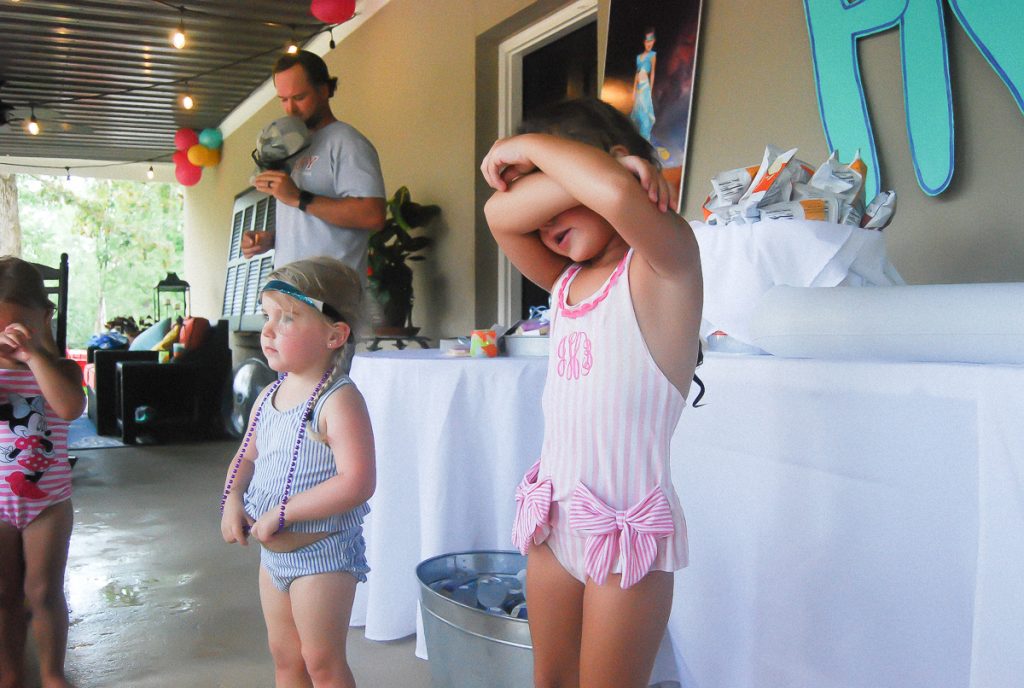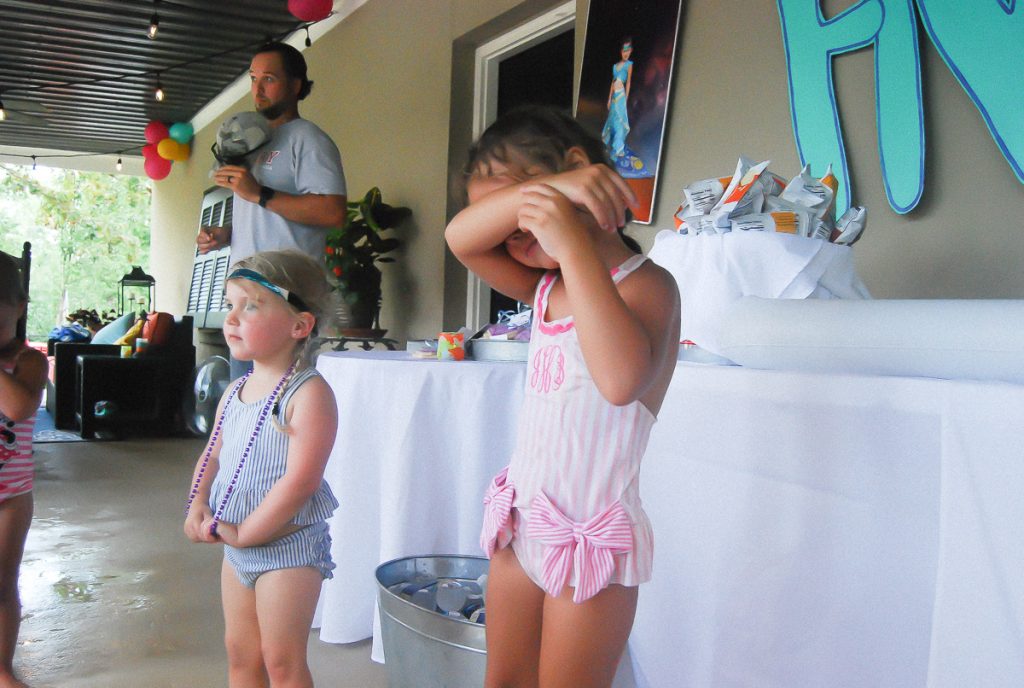 It was an absolutely perfect prayer and one of my proudest moments to date. Confirmation in one moment that I'm doing something right as a parent.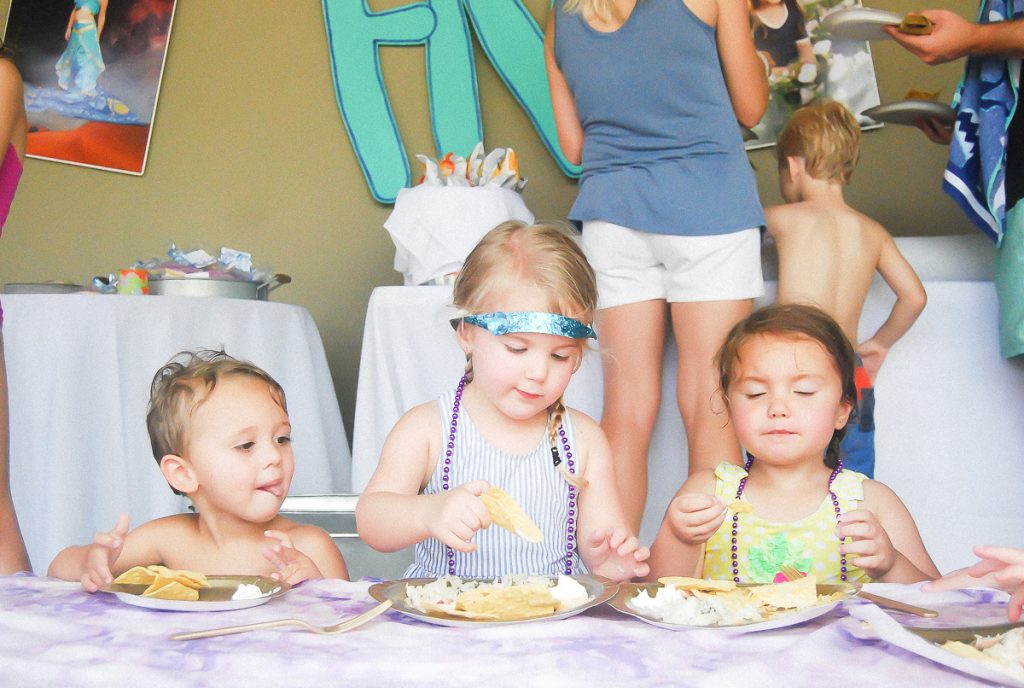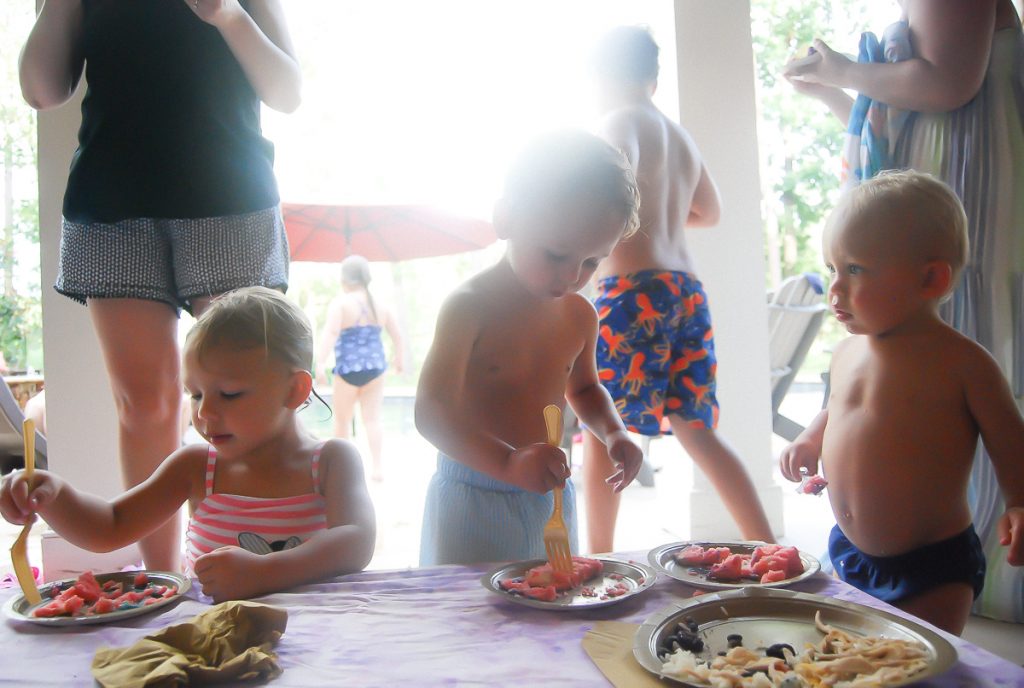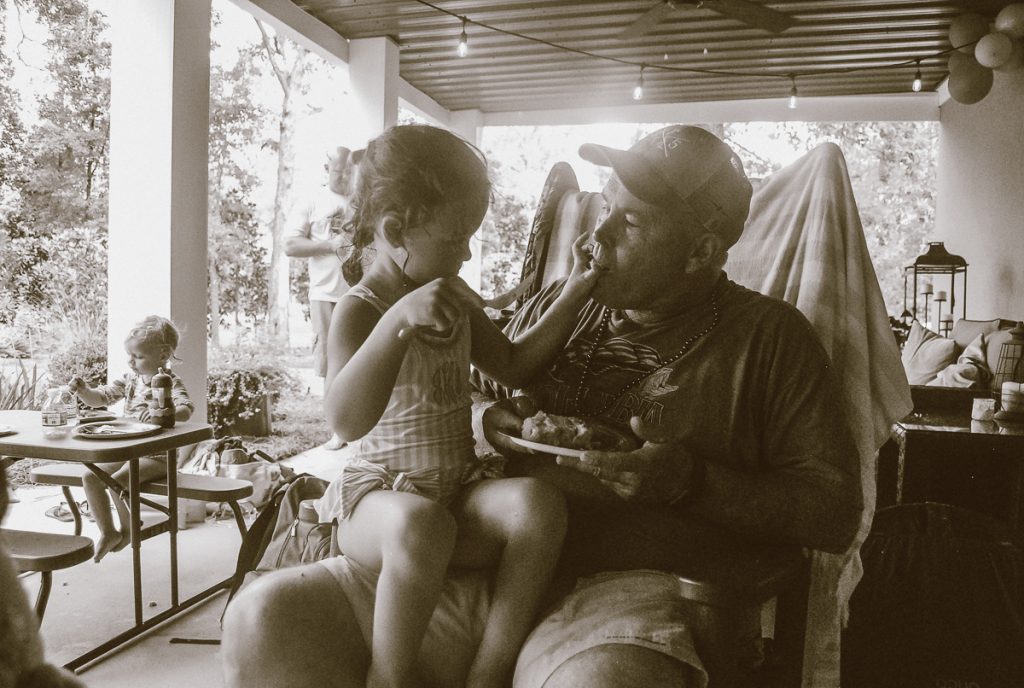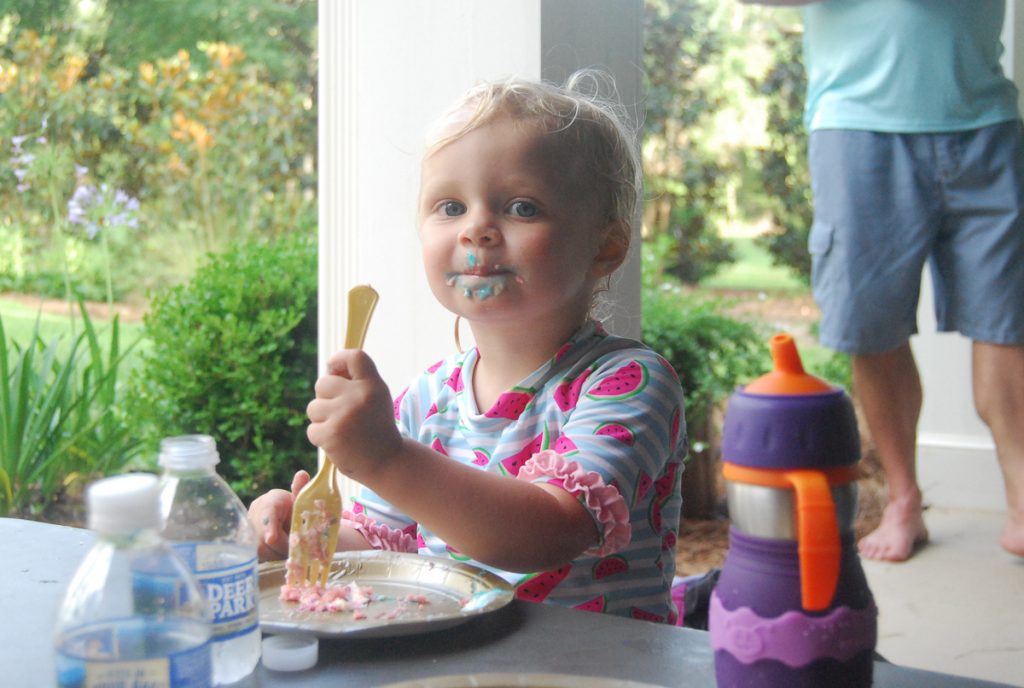 In true mom fashion, I caved and let her open her gifts at the party. It's one of those things I just feel so conflicted about, but it was a highlight for our girl – so, it is what it is. She was overjoyed with every present!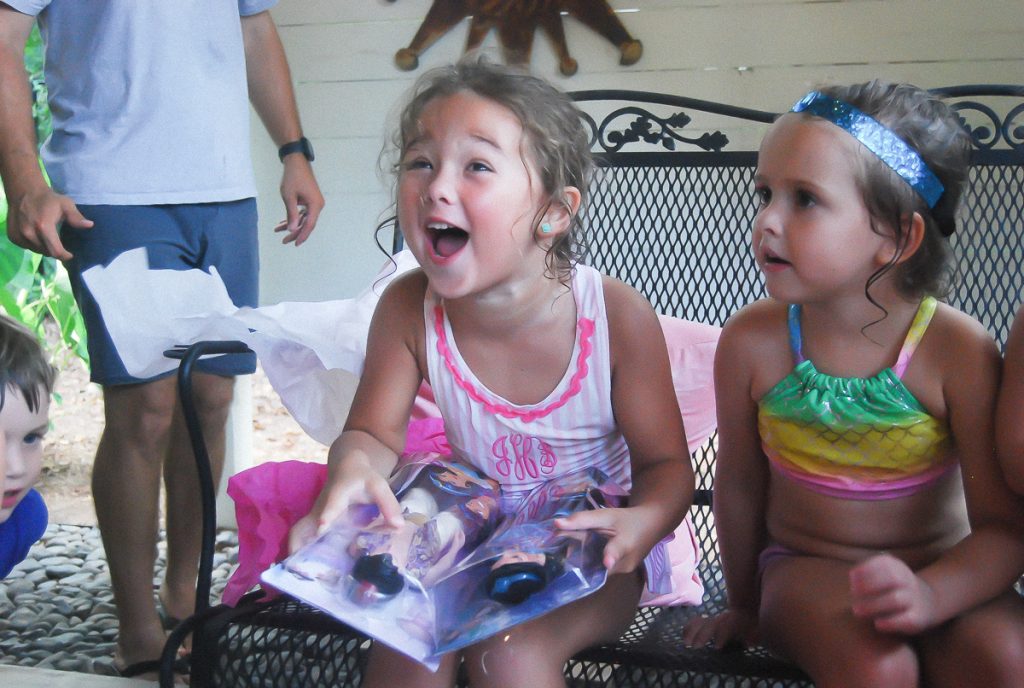 She was so excited to get both Aladdin and Jasmine. She yelled pretty loudly that it was the best because, "One for me and one for Britt!" I just love that her first thought went to sharing her new toys with her brother.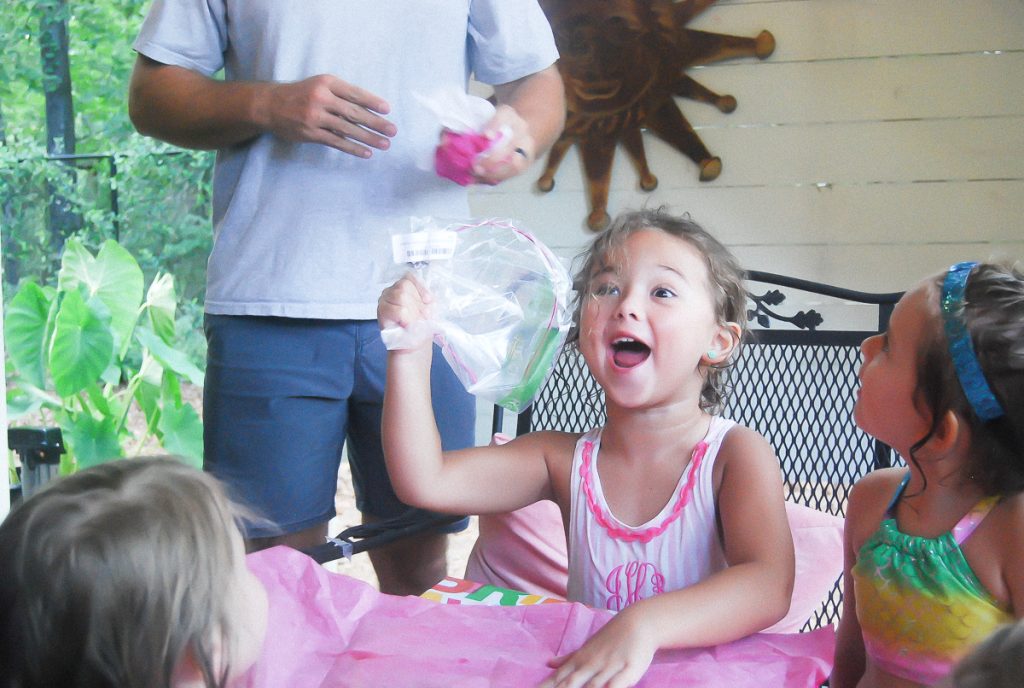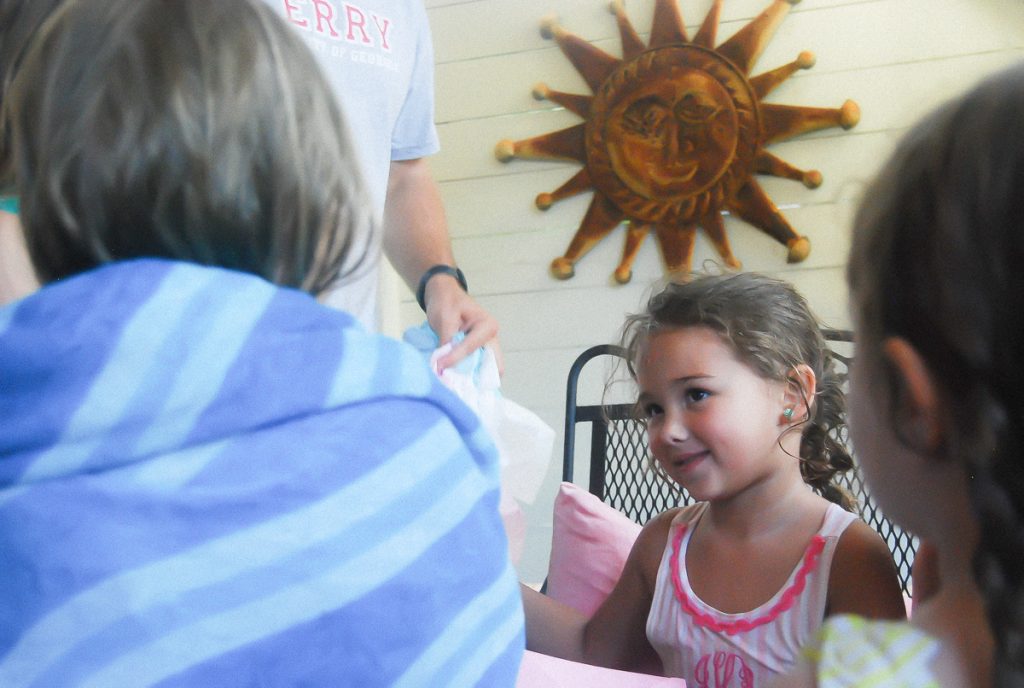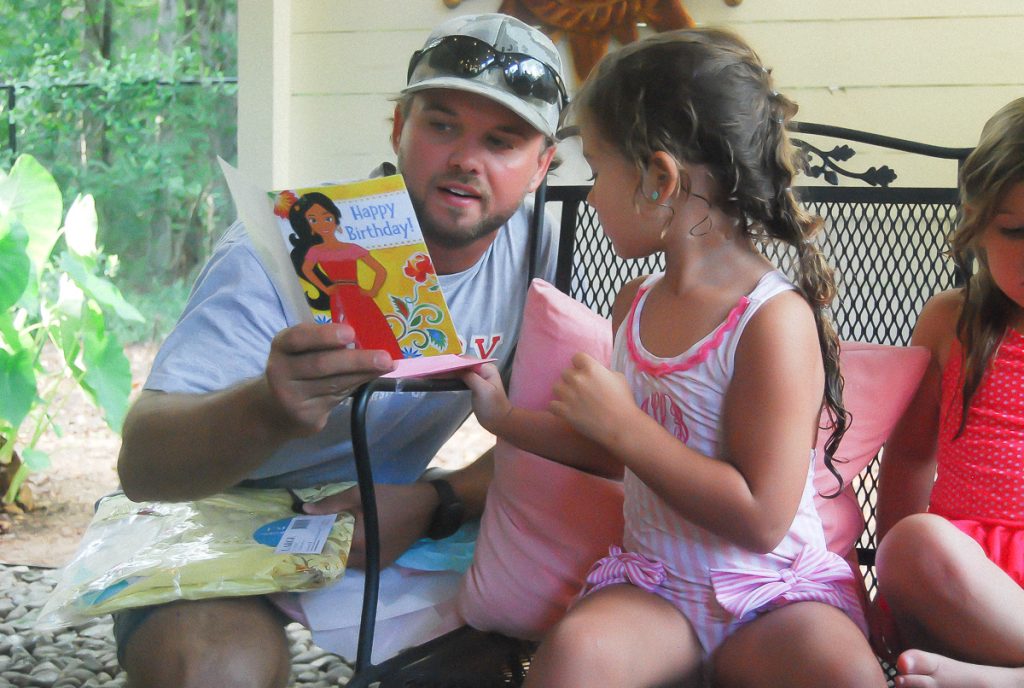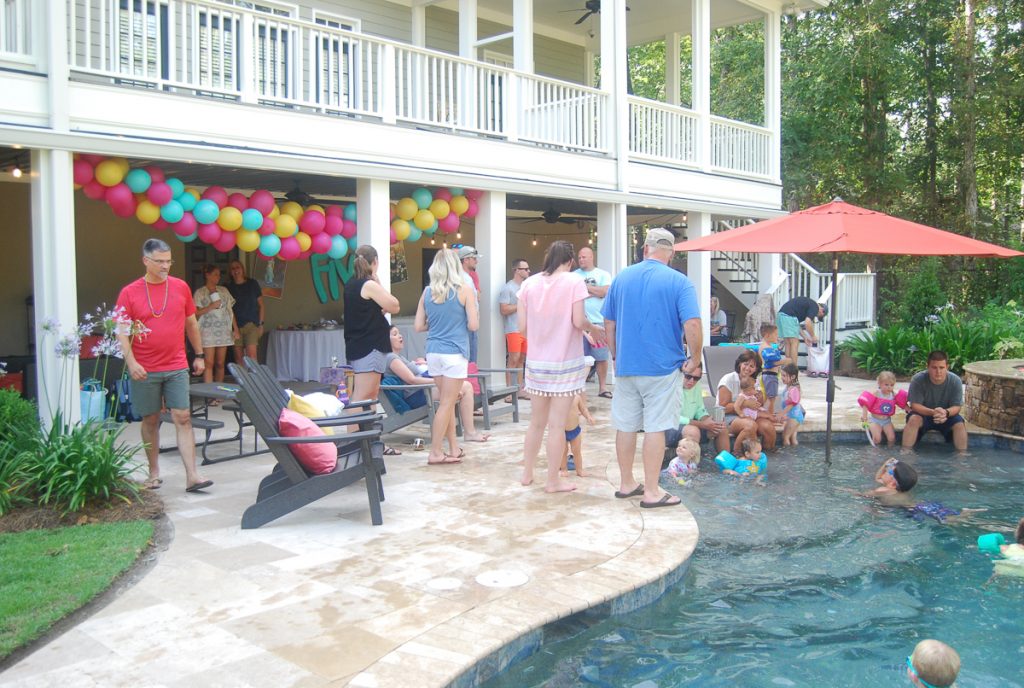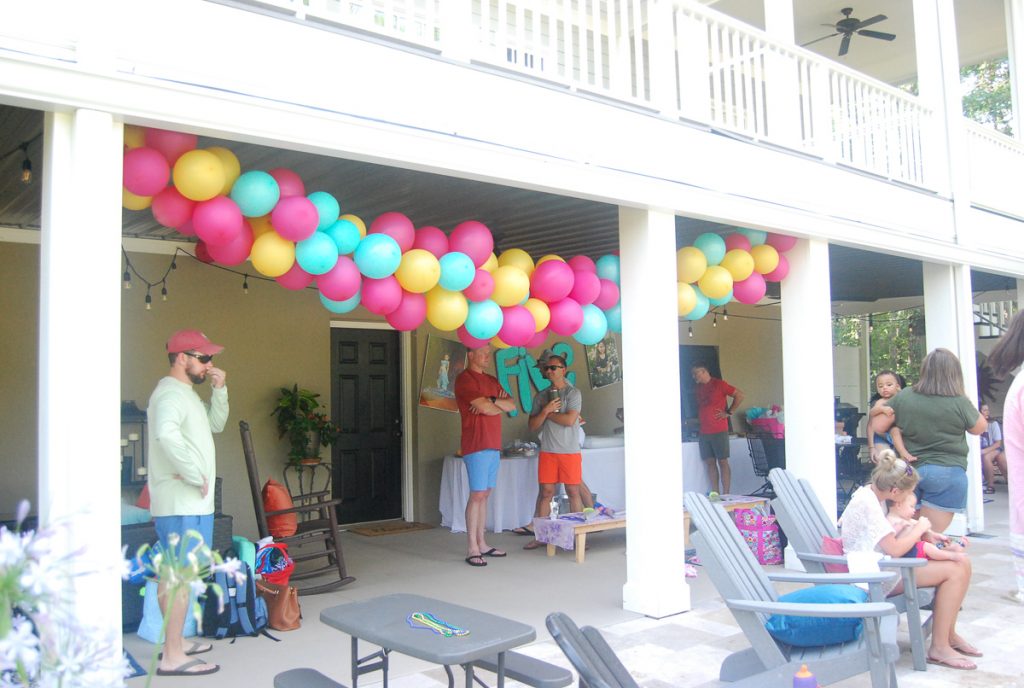 In true Joy Belle fashion, we had a spread of tacos, rice, and black beans – her favorites. She was over the moon excited to celebrate with her friends and didn't want the night to end.
---
Want to make your own balloon garland? Check out my easy, tutorial here. I've got a quick tutorial for those party posters too.
Cake was by my super talented friend, Sara White. Cookies by Joy Belle's grandma, Honey. I'm so thankful to have such talented bakers around.
The kids tables were built by my dad several years ago. Table clothes are reused from Joy Belle's fourth birthday party. And the girls matching suits are from Marley Lilly.