*Mama and any concerned reader, I got high off of toxic fumes not any illegal substances. Do not be alarmed, I sought immediate fresh air and never want to experience a similar reaction again, ever! It sucked loosing valuable brain cells and seeing David with 4 arms. (Exaggeration? You'll never know.) Plus, the title of this post is from a song from 2000 (that's weird to say) by Afroman (very weird to say) that is catchy and stuck in my head on repeat. Keep reading so you'll know what I'm talking about and whatever you do, do not look up this song or the lyrics.
Somewhere along this renovation road, I may have said something along the lines of how simple the brick pavers are to lay or install. In fact, I'm 99% positive that is what we were told by several people…. Wrong! Yes, they were pretty simple to lay on the mortar. Yes, the first 2 coats of sealer wasn't too bad. But then came grouting, which quickly became a dramatic, very time consuming, cleaning process. You may remember me saying that it took 7 of us working tirelessly to get these pavers clean. I'm talking several days of working tirelessly too. Then, the pavers were hazy and dull – no color at all. After 2 more coats of sealer and color enhancer… they were still hazy and dull. What to do? That's the question that kept coming up.
To proceed, we called the company that we purchased the pavers from… No suggestion. We called another local flooring company… No suggestion. Finally, I called the company that makes the pavers, Sunbelt Concrete Company. 24 hours later, I received a call back from the owner and geeze louise was he helpful! Seriously, so helpful. He suggested going to Lowe's and purchasing a "solvent based" sealer. Hooray, we've got a solution. Except (there seems to always be an exception around here)… Lowe's in Albany doesn't carry a solvent based sealer and neither does the local Home Depot. So we're back to square one, great!
Frustration doesn't even begin to express how we were feeling at this point. All of a sudden, we didn't really care that his parents gave us 100+ square feet of these pavers for free. We'd spent too much time and effort trying to make these pavers look like they were suppose to look. (See Old Santa Fe.) We were beginning to hate these little boogers.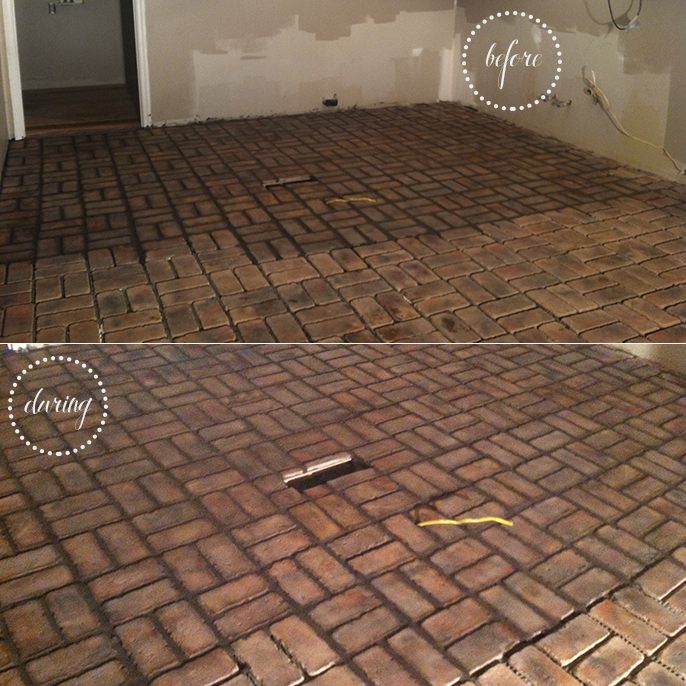 Dull, hazy, blah!
With no other options, I decided to call Seller's Tile back and ask them about the solvent based sealer. Praise the Lord above and a big thanks to Macee, they had it! Justin swung by on his lunch break to pick up 2 gallons of the not-so-very-cheap sealer and we made plans to reseal (for the 5th & 6th times) the floor again.
With the warning that this solution could burn a hole through a Solo cup, we were a bit pre-cautious. However, I should have read the Caution! portion of the label before we got started and worn a mask… because I got high! (Hence the title of this post.)
After cleaning and sealing the pavers for the umpteenth time, it was time to seal them for what we hoped would be the last time. The Glows, being the awesome friends that they are, stopped by to help with the last leg of this ongoing, paver situation. While the boys cleaned the pavers in the master bathroom, Teal and I got a head start on sealing the ones in the kitchen. About 30 or so minutes into rolling on the sealer, we began to feel a bit… loopy? So I volunteered to open the doors and windows, and turn on some more fans. As soon as I walked back into the kitchen, it hit me. And based on the terrified look on Teal's face – I knew she was feeling it too.
We quickly and very nicely asked the guys to take over for us, while we got some fresh, non-toxic air. Whew, breath of fresh air! About 30 or so minutes later, the guys were feeling the same way. We suffered through the next half hour, literally suffered. The fumes were so incredibly strong, our noses and eyes were burning!
But….
The result was exactly what we were aiming for! We'd done it!! No more haze, no more dull, ugly pavers. Our pavers have got shine and color and are beautiful! What do you think?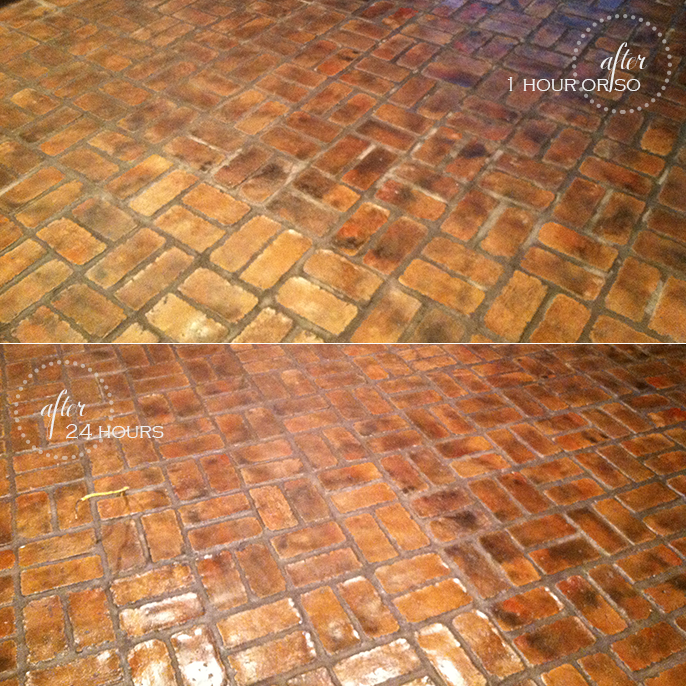 Don't get too excited, we've still got 1 coat to go (Seller's Tile recommended 2 coats) – which Justin actually applied by himself last night. Whoohoo, my husband is a rockstar! Now we'll wait 72 hours before we can walk on it and truly see the end results.
What we learned from brick paving our kitchen and master bathroom:
you better have really, really, really good friends!
make sure you've done a lot of research
do not use a water based sealer
the guys at Lowe's nor Home Depot know anything about brick pavers
seal the pavers before adhering to the mortar
solvent based is the way to go, but beware it's powerful
wear a mask, because the solvent based solution is dangerous!
It feels amazing to say that we are 100% positively DONE with these brick pavers! And we can proudly say, we did it all, from start to finish – – with the help of some awesome family and friends.
You don't have to ask, know that I will be showing off this finished product. It just may be a couple of weeks before I can do so.
—
For a complete renovation update, we've had a few setbacks in the overall plan and move-in date.
One, we've asked the people who sanded and sealed our floors to come back in and apply a 3rd coat of polyurethane to the wood floors. There were a few spots we noticed that needed touching up, so that will happen next Thursday (possibly Wednesday).
Two, we've got or countertops in – but, we've been waiting on the pavers to be completely done before installing them. Hopefully, we'll get this checked off our list on Monday night (after 72 hours of letting the seal dry). This is one (of many) projects I can't wait to share with you all. No spoiler pics or previews, but a family friend and my Daddy took care of these for us – and they. are. amazing!
Three, we're still painting: trim, baseboards, and cabinets. I think we're just over this project, ha!
Even though these steps are time consuming and a barrier to letting us move in, we both agree that we'd rather get it right. So, we wait.
—
In the meantime, Justin and I are beach bound this afternoon! We're excited to be celebrating our one year anniversary oceanside. What better way to wait 72 hours for the sealer to dry, than with our toes in the sand? With all of the renovations and so many late nights, we are looking forward to relaxing and catching up on some us time. Not to mention, it's a great time to reflect on how far the Lord has brought us over our first year as Mr. and Mrs. Heape. After all, we successful entered into our 2nd year of marriage (on Sunday) and we bought our first home in this year – what can we say, we are blessed beyond measure!
So happy, early Friday to y'all! Wishing you all a refreshing and relaxing weekend.

facebook // twitter // instagram // pinterest // bloglovin'