For awhile now I've been on a mission to find the perfect piece of furniture for our entryway. As you may remember front this post, I found the piece and couldn't be happier with this lovely, peachy antique. Since moving it into the foyer, I've pondered how to style it and what to hang above it. If you remember from our apartment, we had several of these pieces hung for a gallery wall there. With such significant meaning, I really wanted to include most of these in this home's gallery too. After all, what is a gallery wall with no sentimental gems? A wall of hodgepodge, that's what. So even if it may seem as a wall of hodgepodge to the common eye, to us it's so much more.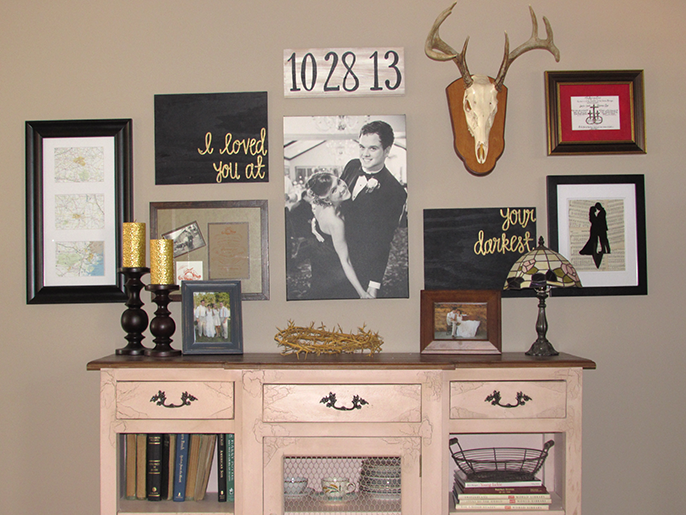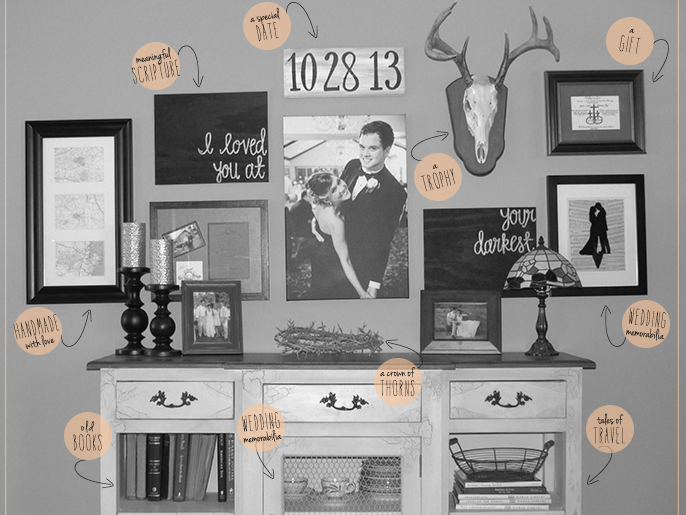 Here is a breakdown of items we chose for our latest gallery wall (top left, clockwise):
meaningful scripture | Inspired by this art, I knew I wanted a scripture that really spoke to us. I went with this version of Romans 5:8, a sweet reminder that He loves us at our darkest moments.
a special date | Our wedding date is everywhere and I love numbers, so I decided to incorporate another special date. If you're familiar with our love story, there is no specific day we began dating, so I had to do a little brainstorming. It didn't take long to think of the date that's made us the happiest most recently, the day we found out we're expecting a baby. Now we have that happy date displayed for all of our guests to see and inquire about.
a trophy | What can I say? I love a good european mount. And it just so happens that I was with Justin on the day he brought home this trophy.
a gift | We were given so many sentimental and personal wedding gifts. This hand drawn piece features The Marriage Cross and is personalized with our names, wedding date, and scripture.
wedding memorabilia | Without making our gallery a shrine to our wedding day, I wanted to include a few special pieces to the wall – like our cake topper, some of the china we used at the reception, and our framed invitation.
tales of our travels | From various thrift stores and sales, I've collected a few books to document places we've traveled.
a crown of thorns | My dad made this for my mom and honestly, I fell in love with it the first time I saw it. Since I loved it so, they generously let me bring it to my house. I love the symbolism behind it and the fact that my daddy made it.
old books | Again I'm a collector of old things, specifically books. So it only made sense for me to incorporate them in our decor.
handmade with love | Everything I do seems to include something I've made and this gallery wall is no different. I took a map of Georgia and framed the cities that we lived in while dating. It's something unique that means so much. You can find the tutorial here. Anything that's handmade makes beautiful art. This friend recently framed artwork by her 3 year old and it's simply gorgeous.
If I had one tip or suggestion for anyone working on creating a gallery wall, I'd say to choose items that are meaningful to you and your family. It's truly a reflection of your personality – so make it yours!

facebook // twitter // instagram // pinterest // bloglovin'