So much of my social media feeds have been filled with reflecting on the last year or the past decade, so I decided to do the same and reflect on my life's timeline over the last ten years. I had to sit back and really think, "What was a I doing in 2010?" to get the ball rolling.
2010
In 2010, I was living the single life in Savannah, Georgia working a dream job at the city's Convention and Visitors Bureau. Justin and I had been walking a fine line between "just friends" and true loving, to the point that I was done with his non-sense and ready to start 2011 single. Little did I know, but on NYE of 2010, he would finally muster the courage to admit his love and tell me he loved me.
2011
In 2011, I had a new appreciation to who I am, as the person Christ created me to be, and truly sought out His vision for my life. During this season of growth, I became more independent – changed churches, lived alone, advanced in my career, and made longer term career choices. I also launched my first blog, over at breezyjoy.com (One day I'll get around to merging all of those posts here.)
The week of Labor Day, I met Justin's family in Grayton Beach, Florida for a few days of vacation. I never imaged that it would be such a life-changing trip. Justin proposed, with BOTH of our families watching from a far. He pulled of the best surprise of my life and I said, yes.
2012
We tied the knot pretty early on in 2012, with a very hot May wedding. Just weeks before our wedding day, I packed a trailer full of my belongings and moved back home – to Albany, Georgia. Here I began my marketing career at DOCO Credit Union, the non-profit organization I did my college internship.
2013
With our move home, I knew that I wanted to start a family sooner rather than later. That happened and we learned we were expecting our first baby in 2013. We also tackled our first home renovation and moved into our first house.
2014
We learned in early February that we were having a baby girl! And soon after, we discovered that she would be born with bilateral clubfeet. What seemed like devastating news in the moment, would turn into a huge platform for our family to glorify Christ. In June, we welcomed our beautiful baby girl, Joy Belle.
2015
Justin had a career change. He transitioned from the banking world, into the construction industry. It was a huge adjustment for us all, but an answer to prayer at the time.
We also celebrated one successful year of parenthood and Joy Belle's first birthday. Just a few months later, we learned we were expecting baby #2. After 6 negative pregnancy tests, this news turned out to be the best, Christmas Eve surprise.
2016
We celebrated our 4th wedding anniversary and welcomed our incredibly handsome, baby boy into the world. He arrived on my 29th birthday. There is no doubt, Britt Colby is the best birthday gift I've ever received.
2017
The anniversaries and birthday celebrations continued – 5 years, a 3 year old, and a 1 year old. This year/season of life was very challenging, but still full of joy, blessings, and excitement.
Same year, we packed another trailer full of our belongings and moved across town to a God-given house, we now call home. Moving was such a God ordained thing. I can say He truly handed us this house by orchestrating every tiny detail, including the previous owners praying about it with us.
2018
We found out we were having baby #3 after a very nauseous New Year. At this point, I realized we'd got quite a pattern going: 2013 pregnant, 2014 baby, 2015 pregnant, 2016 baby, 2017 pregnant, 2018 baby… Best response to announcing this pregnancy came from my dad: "Did you do this on purpose?" (Context: We were sitting in a booth at Sonny's BBQ with two of my toddlers climbing all over him. It was the 3rd pregnancy and it felt like a good time to share the news. I thought it was funny then and now.)
We sold the first home we owned. It was such a labor of love, that it was bittersweet to say good-bye, but a blessing because – no more second mortgage!
It's another girl! In the fall, we welcomed our littlest love, Aurelia Faye. Her name means golden one and like gold, she shines! She has brought us so much happiness. We are all pretty smitten and she is spoiled rotten.
2019
No pregnancies! Which Justin considers a huge praise to end the decade.
The best thing that happened to us in 2019 was Justin walking into a new career venture. After years of us praying for an opportunity like this, it happened and we've been so blessed to have him home more and a lot less stressed. We were not alone in asking for this opportunity, so to each of you that prayed for Justin and his career path – thank you. It's been felt and the Lord has answered it in a big way.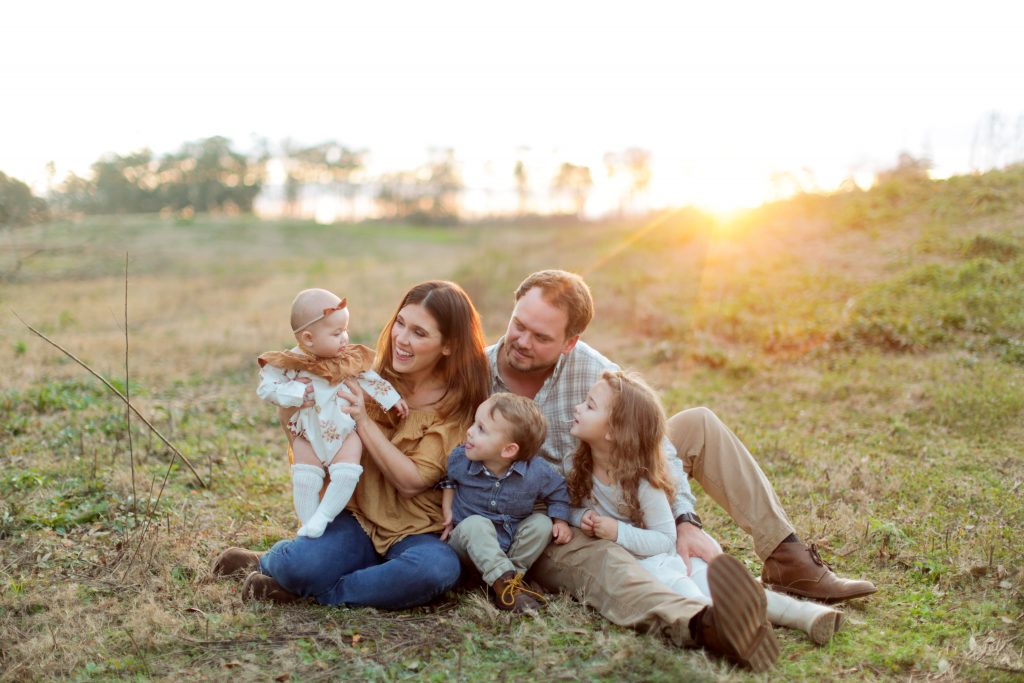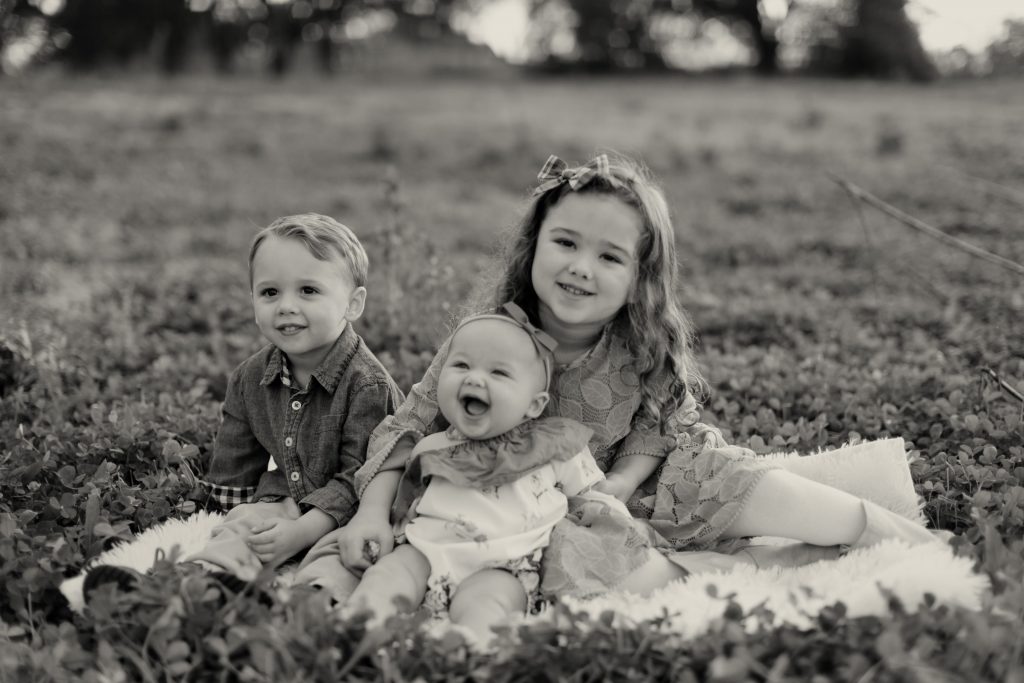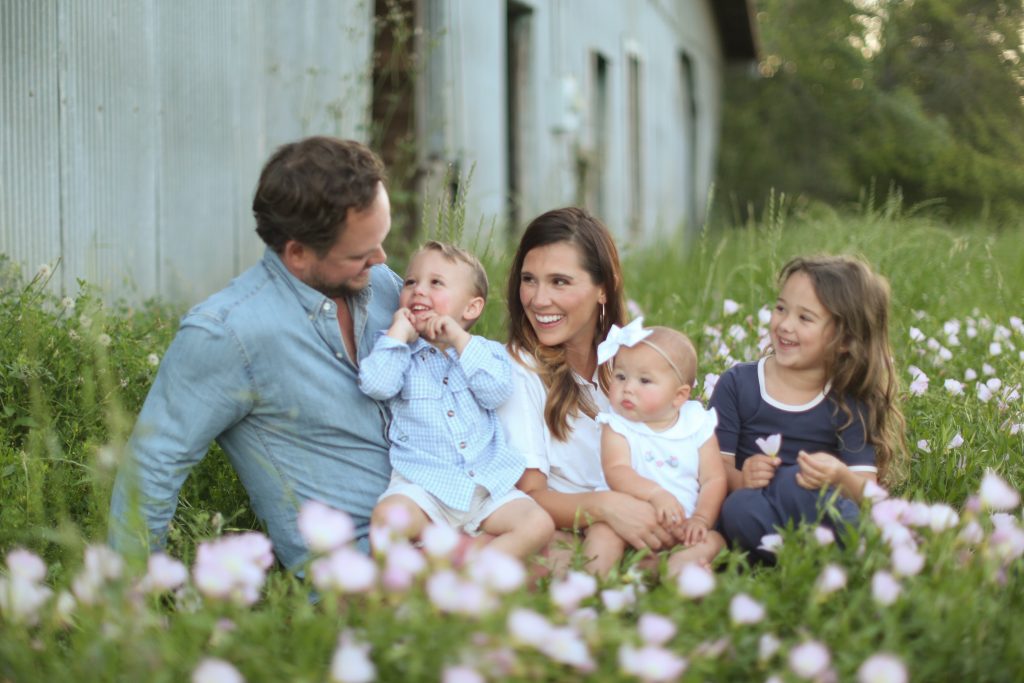 The past decade has left me feeling overjoyed with gratitude. I can truly say that I am blessed beyond measure. I recently saw something that said, "Remember when you wanted what you currently have?" I can say, I do. While I don't know what you dreamed of as a child, but I dreamed of my family and God has well exceeded all of my best and wildest dreams. Dreams do come true! And time proves that His plan is continuously better than mine.