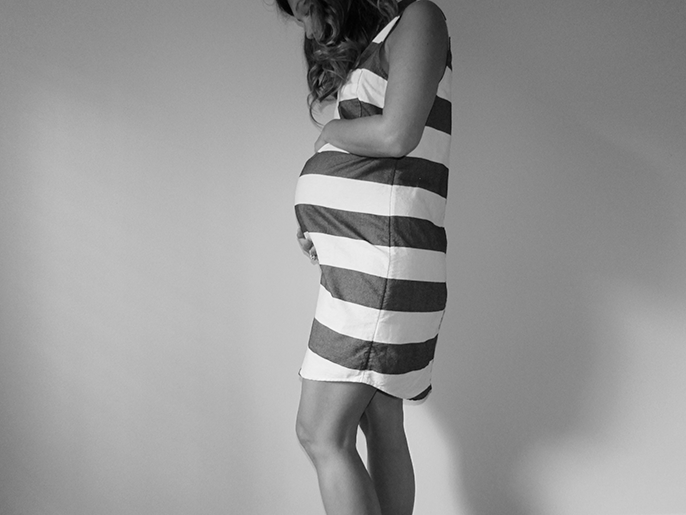 In the beginning, I vowed no weekly photos… So forgive me as I revoke that promise and document the last few weeks of my pregnancy. With the end being so near, I want to make sure I document this growing bump as often as I can. Because honestly, I'm going to miss this sweet, alone time with my girl. And I want to remember every pound I packed on and all of her sweet movements!
It may sound crazy, but these last 36 weeks have flown by. (To me, not so much for Justin.) Yes, there were trying times and days I thought I'd be pregnant forever, but all in all – it's been a very easy pregnancy and for that I am thankful.
How far along are you? 36 weeks, 5 days.
Best moment(s)? The look on Bailey's face whenever she felt baby girl's hiccups! It was a priceless moment.
Food cravings or aversions? Lemoncello gelato! And ice-cream, popsicles, frozen yogurt, etc. plus, sparkling water & trail mix!
Symptoms? Braxton Hicks are here, along with swollen feet.
Sleep? Still uncomfortable.
Gender? Baby Heape is a girl!
Movements? Yes! Still my absolute favorite part of being pregnant.
Cranky or happy? Happy, bossy, & crazy-get-things-done moods.
Maternity clothes? Oh yea, I'm there. Although, the dress I'm pictured in is not maternity. It's this one from Old Navy and super comfy – I wish I could wear it everyday. (Since adding the link, it's now on sale! Makes me want to buy another. You can't beat $15!)
Miss anything? Sushi, oysters, and good sleep.
What are you looking forward to? Her arrival! Only 23 days until due date and I'm convinced she's coming early.
After my last shower, Carolyn and I went to the pool for a couple of hours. Even though I've been saying baby girl loves the warmth of the sunshine, two ladies sitting nearby noticed too. She was going crazy trying to get her little rump (& toes) close to the sunshine. Justin says she probably hates it and is desperately trying to escape, but I'm convinced she loves it. Obviously, she's my baby!
Other pregnancy posts (this list is getting long!),
a Heape of joy!
first trimester
baby Heape is a…
eighteen weeks
twenty weeks
twenty four weeks
second trimester
twenty six weeks
peek at baby!
twenty nine weeks
thirty two weeks
thirty five weeks
 Also, if you haven't heard it's Friday the 13th and a full moon tonight. I'm not superstitious but if you think about it, say a quick prayer that this baby doesn't come tonight!

 facebook // twitter // instagram // pinterest // bloglovin'